The Chilcot Report has been described as a "damning indictment" of the conduct of Tony Blair ahead of the US-led invasion of Iraq.
Campaign for Nuclear Disarmament General Secretary Kate Hudson said: "All the big questions about lies and the legality of war have now been answered. It is clear that Blair was a prime minister with very little concept of democracy and little respect for international law or the United Nations.
"He seems to have pursued his own path, with the United States, completely outside the normal legal or political process."
Families of some of the 179 British soldiers killed during the Iraq war have been reacting after the long-awaited report into the conflict was published.
Several grieving mothers, fathers, partners and other family members streamed into the Queen Elizabeth II centre in London where they were given an early glimpse of the 2.6 million-word, 12-volume tome.
Roger Bacon's son, Major Matthew Bacon, died when a roadside bomb exploded, hitting the vehicle he was travelling in, near Basra.
Roger Bacon said: "Never again must so many mistakes be allowed to sacrifice British lives and lead to the destruction of a country for no positive end.
"We were proud when our husbands, sons and daughters signed up to serve our country. But we cannot be proud of the way our government has treated them."
He continued: "We must use this report to make sure that all parts of the Iraq War fiasco are never repeated again. Neither in a theatre of war, nor in the theatre of Whitehall.
"We call on the British government immediately to follow up Sir John's findings to ensure that the political process by which our country decides to go to war is never again twisted and confused with no liability for such actions."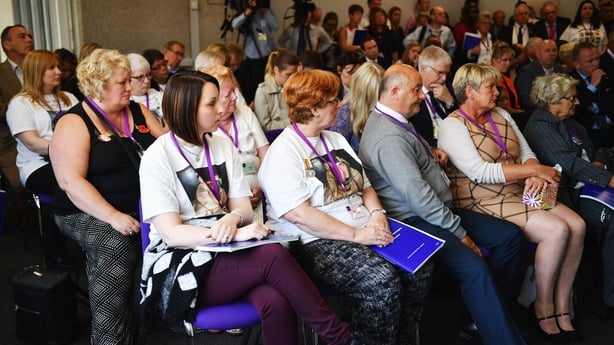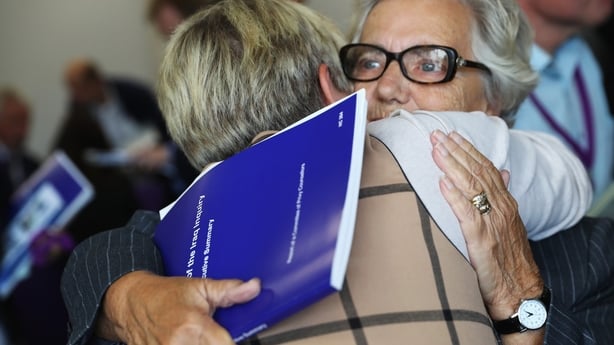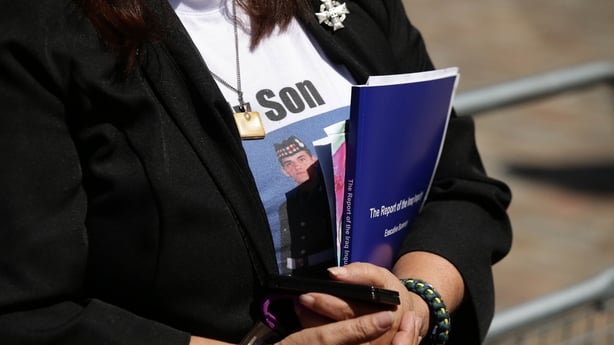 Eddie Hancock, from Wigan, whose 19-year-old son Jamie Hancock was a kingsman with the Duke of Lancaster's Regiment when he was killed in Basra in 2006, said: "First of all, Chilcot's report ... he's done exactly as he said he would - it wasn't a whitewash by any means. He's fulfilled the promises that he made in 2009.
"Obviously, some people will never be happy unless there's a rope there.
"But, what he has actually said is that (Tony) Blair undermined the United Nations. Now, if somebody does that, you would think that the act was illegal. He's also misled parliament, he's fabricated facts and misrepresented them.
"I hope and I would like to call on all politicians in this country that for the grievous damage this man has inflicted on this nation, on its armed forces, that he be banned from any form of public office for life. At the very least."
In it, report author John Chilcot criticised Mr Blair for committing to backing then US president George W Bush over Iraq.
It also criticised government ministers' justification for, planning and conduct of a military intervention which "went badly wrong, with consequences to this day".
Several military operations were described in the report as "hastily prepared" and led to equipment shortages for British personnel - an issue that several victims' families have long campaigned over.
However, the report stopped short of making a judgement on the legality of the war.
The parents of Alec MacLachlan from Llanelli, who served in Iraq and returned to the country as a private security guard in 2006 where he was kidnapped and killed, said it was clear from the report that Mr Blair was "George Bush's poodle".
As he left the QEII centre, father Peter MacLachlan said "The report was very factual. And it didn't hold anything back."
He said he did not think the war was based on a lie but added "in the future they should think of the consequences for a lot longer".
Ronnie Barker, whose son, Private Lee Ellis, died in 2006, said she broke down in tears when reading the report.
Pte Ellis was 23 when he was killed by a roadside bomb along with Captain Richard John Holmes when a home-made bomb exploded under their vehicle.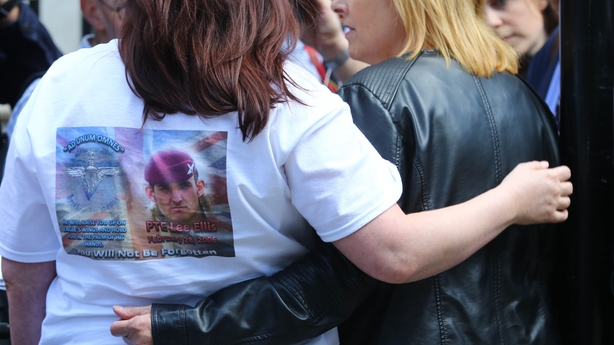 Ms Barker said the report found the vehicle he was travelling in was "not fit for purpose".
She said: "We went in thinking it was going to be a whitewash but I actually cried."
Asked what she wanted to happen next, Ms Barker said she "would like to see Tony Blair sent to court".
Swift and angry reaction to report's findings
Lindsey German, convenor of the Stop the War Coalition, said Mr Chilcot's report underlined everything the group had been saying for more than a decade.
She told the Press Association: "We have been saying for years that Blair was disregarding the UN and was in this hideous relationship with George Bush.
"Chilcot should not be the end of the matter - it must be the beginning of legal and political action against Blair."
John Sauven, executive director of Greenpeace, said: "This report confirms what we already knew - that the Blair government led Britain into a disastrous war on a drumbeat of exaggerated threats, guesswork dressed as intelligence, and windy rhetoric.
"The formidable challenges humanity is facing today require international co-operation more than ever before. We cannot have a healthy environment without peace, and we cannot have peace without a healthy environment. This is why Greenpeace will keep campaigning for both."
Green MP Caroline Lucas said: "Chilcot's report is damning for Blair, his cabinet and all those MPs who voted to take this country into an illegal and immoral war in Iraq. Iraqis continue to pay the price for an invasion that took place long before other options for a peaceful resolution were explored.
"This report confirms the series of serious failures that led to this disastrous war. We know for sure that government ministers, including Tony Blair, lied to the public about their reasons for going to war.
"He said he would support George Bush 'whatever' eight months before the war - and thousands of lives were lost because he stuck to that promise despite the evidence in front of him."
Anti-war supporters demand 'truth and justice'
Anti-war supporters staged a demonstration in Westminster as Mr Chilcot presented his long-awaited report on the UK's role in the Iraq war.
Around 150 protesters gathered opposite the building in which families of some of the British soldiers who lost their lives during the conflict were reading the report for the first time.
Ex-soldiers who served in Iraq joined leaders of the Stop the War Coalition, CND and other groups to demand "truth and justice" and called for Tony Blair and others to face the full force of the law.
One protester wore a mask of the former prime minister with fake blood on his hands.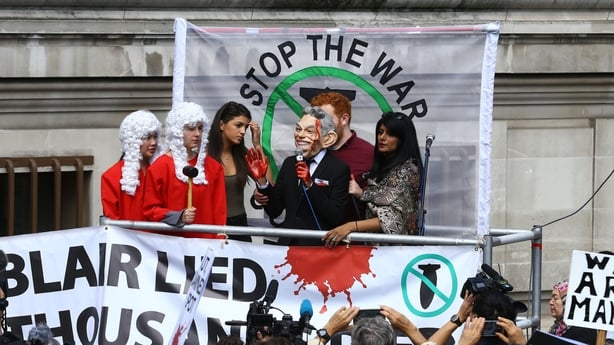 Former soldier Ben Griffin who served in Iraq in 2005 called for Mr Blair and former foreign secretary Jack Straw to face criminal trials.
He said: "I was involved in attacking civilians in their homes, taking men who were then tortured by American soldiers in prisons.
"We were responsible for an occupation during which many of the Geneva conventions were broken."
Mr Griffin, a member of the Veterans for Peace group, added: "I'm sure the establishment would like to hold a lowly soldier to account for those crimes.
"But, however, it should be the people at the top. Tony Blair, Jack Straw, General Jackson, the head of MI5, the head of MI6. Those people should have criminal proceedings brought against them."
Another ex-serviceman John, who is an anti-war poet, said: "It took the Hillsborough families 27 years to get justice so if we have to wait that long we are prepared to for Tony Blair to face justice."
Campbell: Chilcot fourth inquiry to clear me
Former Downing Street director of communications Alastair Campbell has said the Chilcot report is the fourth inquiry to clear him of "sexing up" a government dossier on Iraq's supposed arsenal of weapons of mass destruction.
While acknowledging that the report had uncovered "many mistakes" in the preparation for war, Mr Campbell said its core findings had "laid to rest" a string of allegations made by Tony Blair's critics, including the claim that the former PM secretly pledged to join the US in military action at a 2002 meeting with then president George W Bush in Texas.
In a staunch defence of his former boss, Mr Campbell rejected claims that Mr Blair was "cavalier" about military action, insisting that he did everything he could to prevent war and agonised ceaselessly about its possible consequences.
In a blog released shortly after the publication of the Iraq Inquiry report, Mr Campbell said: "That is four inquiries now which have cleared me of wrongdoing with regard to the WMD dossier presented to Parliament in 2002, and I hope that the allegations we have faced for years - of lying and deceit to persuade a reluctant Parliament and country to go to war, or of having an underhand strategy regarding the respected weapons expert David Kelly - are laid to rest."
The report had shown "there was no secret deal, there was no lying, there was no deceit, there was no 'sexing up' of the intelligence", said Mr Campbell. "What there was was a decision, a set of decisions, which ultimately had to be made by the prime minister."
Mr Campbell said "conspiracy theorists" continued to claim Mr Blair took Britain to war for oil, or to please Mr Bush or because of  a "Messiah complex".
But he insisted: "I was one of the few people who saw the process of his making the decision close up, virtually round the clock, around the world.
"Far from seeing someone hell-bent on war, I saw someone doing all he could to avoid it. Far from seeing someone undermine the UN, I saw him trying his hardest to make it work. Far from seeing someone cavalier about the consequences of war, I saw someone who agonised about them, and I know he still does, as do all who were there, part of his team."
Mr Campbell said the world was "a better place" for the removal of Saddam Hussein from power.
He rejected claims that the Iraq war had led to the rise of the self-styled Islamic State terror group.
IS had risen in Iraq, Syria and Libya and become a threat to Europe largely because of the "premature departure" of international troops from Iraq and a failure by European powers to intervene to prevent the emergency of failed states, he said.