Labour leader Jeremy Corbyn is facing the prospect of a leadership challenge after deputy leader Tom Watson failed to persuade him to stand down.
Former shadow business secretary Angela Eagle will announce her intentions tomorrow amid reports she is preparing to run as a "unity" candidate.
Mr Watson said the party was heading towards a full-blown leadership contest after Mr Corbyn had refused even to discuss some form of "negotiated settlement" following yesterday's unprecedented vote of no confidence by Labour MPs.
While Mr Watson, who has also faced calls to stand, ruled himself out as a challenger, he said: "This does need solving."
He told BBC News: "My party is in peril, we are facing an existential crisis and I just don't want us to be in this position because I think there are millions of people in this country who need a left-leaning government."
The big Labour supporting trade unions indicated in a statement that they would not seek to stand in the way of a contest provided it was carried out "through the proper democratic procedures provided for in the party's constitution".
In a speech to student supporters in London, Mr Corbyn said while he recognised not everybody supported the direction he was taking the party, he had the mandate to carry on.
"I also recognise that the mandate was given by hundreds of thousands of ordinary people joining in the political process," he said to cheers from supporters.
He was briefly heckled, with one man yelling: "What about Europe? Where were you when we needed you?"
Mr Watson's intervention came after former leaders Ed Miliband, Gordon Brown and Harriet Harman all joined calls for Mr Corbyn to quit while even Prime Minister David Cameron said he should stand down in the national interest.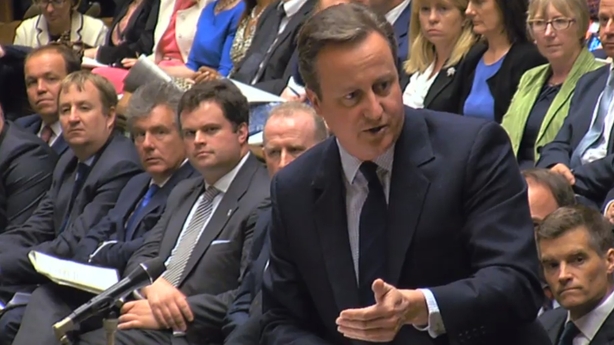 Mr Corbyn suffered the indignity of further shadow cabinet resignations, with shadow education secretary Pat Glass quitting just two days after being appointed to the post saying the situation was "untenable".
The Labour leader, however, remained defiant, with a spokesman saying: "Jeremy Corbyn is determined to carry on with the job he was democratically elected to do."
Mr Watson blamed hard left shadow chancellor John McDonnell for refusing to allow Mr Corbyn to resign.
"I went to see Jeremy today to see whether we could find a way of getting a negotiated settlement but he was unwilling to move from the position he is in. We are still in an impasse," he said.
"He has obviously been told to stay by his close ally John McDonnell. They are a team and they have decided they are going to tough this out. So it looks like the Labour party is heading for some kind of contested election."
Mr McDonnell dismissed the claim as "ludicrous" and indicated that he was confident that Mr Corbyn would see off any challenge to his leadership.
"He is buoyant, he is campaigning, he is doing his work here. He is not going anywhere," he told Sky News. "If there is a contest he will be standing again. I think Jeremy could win it again".
The fear for the rebels seeking to oust Mr Corbyn is that the grassroots activists who propelled him to the leadership last year will return him again in any new contest leaving him even more firmly entrenched in his position.
Tensions run high in the House of Commons with Cameron telling Corbyn to stand down.https://t.co/RsQo4Rk122

— RTÉ News (@rtenews) June 29, 2016
The pressure however remained unrelenting, with Mr Cameron using Prime Minister's Questions to denounce Mr Corbyn's lacklustre campaigning for Remain in the EU referendum and calling on him to go.
"For heaven's sake man, go," he said.
Mr Miliband said the situation was "unsustainable" and that he would have resigned if he had found himself in Mr Corbyn's position.
"I deeply respect Jeremy as a person and indeed as a politician for the causes he has fought for. My judgment is those causes are more likely to be served if he goes," he told BBC Radio 4's The World at One.
Mr Brown said that Mr Corbyn had to go if Labour was to become a party of power again and not to be reduced to a protest movement.
"Either the Labour Party will become an anti-globalisation protest party, or it's going to become a party that is able to tell people how we can best manage," the former prime minister told an event in Edinburgh.
Ms Harman said that Mr Corbyn would cause damage on the "gravest scale" to Labour if he remained in office.
"Jeremy earned the right to take up the leadership of the party with a big majority. But he has failed and he has no right or mandate to stay in office despite his failure and take the party down with him," she said.