British Labour Party leader Jeremy Corbyn has said he will "not betray" the party's members by resigning, despite losing a vote of confidence.
MPs from Britain's opposition Labour Party backed the motion of no confidence in Mr Corbyn by an overwhelming margin.
The Parliamentary Labour Party voted by 172 to 40 for the motion tabled by veteran backbencher Dame Margaret Hodge.
Mr Corbyn said that Britain faces major challenges in the aftermath of last week's referendum.
"The government is in disarray. Ministers have made it clear they have no exit plan, but are determined to make working people pay with a new round of cuts and tax rises," he said.
He added that he was democratically elected as Labour leader for a new kind of politics by 60% of party members and supporters, and "I will not betray them by resigning. Today's vote by MPs has no "constitutional legitimacy".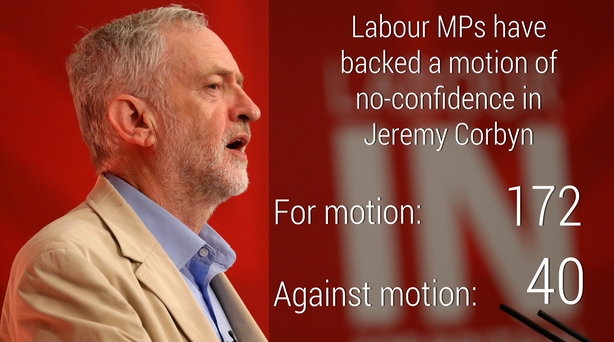 The motion was backed by many who felt Mr Corbyn had not campaigned hard enough to keep the country inside the EU, and would not be able to win a future election.
The result, which was expected after days of heavy criticism from within his party, has no formal consequence and does not automatically trigger a leadership election.
Mr Corbyn had previously said he would not resign and would stand again if the party did call a leadership contest.
Jeremy Corbyn
'Our people need Labour party members, trade unionists & MPs to unite behind my leadership at a critical time for our country'

— JeremyCorbyn4PM (@JeremyCorbyn4PM) June 28, 2016
Speculation has been rife that deputy leader Tom Watson or former shadow business secretary Angela Eagle - who quit the shadow cabinet yesterday - could run as a "unity" candidate.
Mr Corbyn's supporters are confident that he will win out in a ballot of grassroots activists who swept him to the leadership last year and who will decide the outcome of any contest.
His team insist that if there is a challenge, he will automatically be on the ballot paper as the incumbent party leader.
But some in the party have argued that under party rules he will need the nominations of 50 MPs and MEPs in which case he could struggle to get the necessary support.