Turkey has pointed the finger at the so-called Islamic State for a triple suicide bombing and gun attack that killed 41 people yesterday at Istanbul's main airport.
President Tayyip Erdogan called it a turning point in the global fight against terrorism.
In the deadliest of a series of suicide bombings this year in Turkey, the attackers struck the busy airport, a symbol of Istanbul's role as the Muslim world's most open and cosmopolitan city, a crossroads between Europe and Asia.
Three bombers opened fire to create panic outside the airport last night, before two of them got inside and blew themselves up.
259 people were wounded, officials said.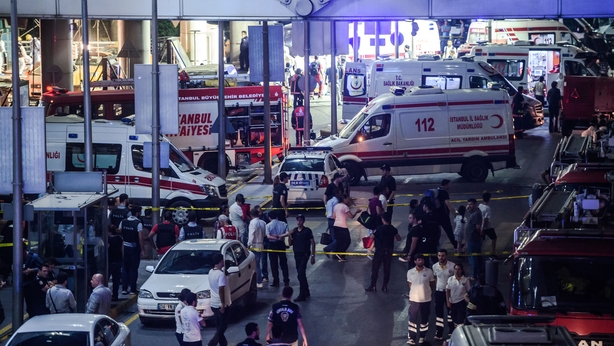 Prime Minister Binali Yildirim said the attackers shot at random to overcome security checks at the international terminal of Ataturk airport.
One blew himself up in the departures hall, a second in arrivals, and the third outside.
"Our thoughts on those responsible for the attack lean towards Islamic State," he told a news conference, adding that investigations should be completed in the coming days and the identities of the bombers revealed.
Scenes of panic and destruction from inside Istanbul's Ataturk airporthttps://t.co/8PeQI2Df86

— RTÉ News (@rtenews) June 29, 2016
John Brennan, head of the CIA in Washington, also said the attack bore the hallmarks of Islamic State "depravity".
Turkey is part of a US-led military coalition against Islamic State and home to around three million refugees from the five year civil war in neighbouring Syria.
Islamic State has established a self-declared caliphate on swathes of both Syria and Iraq and declared war on all non-Muslims and all Muslims who do not accept its ultra-hardline vision of Sunni Islam.
It has claimed responsibility for similar bombing and gun attacks in Belgium and France in the past year.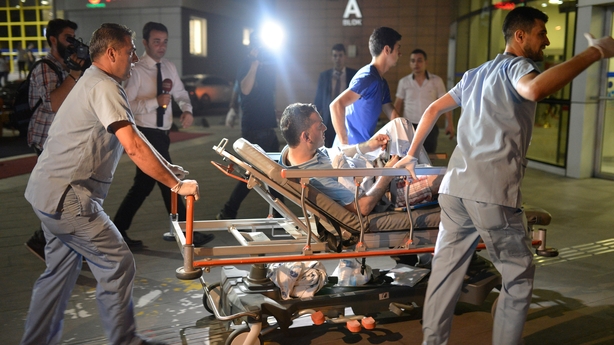 Mr Erdogan, whose government has taken steps this week to improve relations with Israel and Russia in part to strengthen its hand in fighting against militants, said the attack should serve as a turning point in the global battle against terrorism, which he said had "no regard for faith or values".
US President Barack Obama and Russian President Vladimir Putin condemned the attack in separate phone calls with Mr Erdogan, his office said.
Mr Obama said the US has offered all assistance available and pledged to work with Turkey to fight terrorism.
Footage from inside Istanbul's Ataturk airport following yesterday's attack https://t.co/2mwhFNLKMrhttps://t.co/WZa2uTNz39

— RTÉ News (@rtenews) June 29, 2016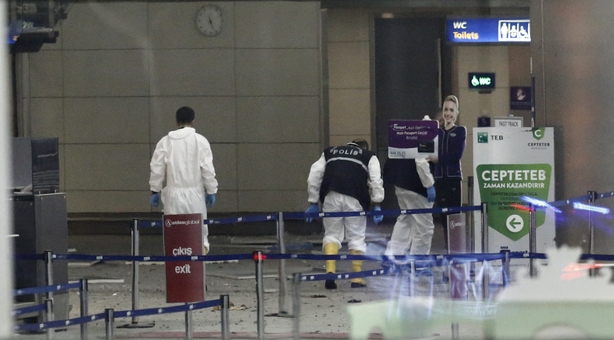 A day after the attack, broken ceiling panels littered the kerb outside the arrivals section of the international terminal.
Plates of glass had shattered, exposing the inside of the building, and electric cables dangled from the ceiling.
Cleanup crews swept up debris and armed police patrolled as flights resumed.
The 13 foreigners killed included five Saudis, two Iraqis and citizens from China, Jordan, Tunisia, Uzbekistan, Iran and Ukraine.
One attacker opened fire in the departures hall with an automatic rifle, sending passengers diving for cover and trying to flee, witnesses said.
Two other explosions hit the arrivals floor below, one of them just outside the building.
Video footage showed one attacker inside the terminal being shot, apparently by a police officer, before falling to the ground as people scattered.
The attacker then blew himself up around 20 seconds later.
No group had claimed responsibility, more than a day after the attack.
Istanbul's position bridging Europe and Asia has made Ataturk airport, Turkey's largest, a major transit hub for passengers across the world.
The Istanbul governor's office said 109 of the 239 people hospitalised had since been discharged, but the health minister said 41 were still in intensive care.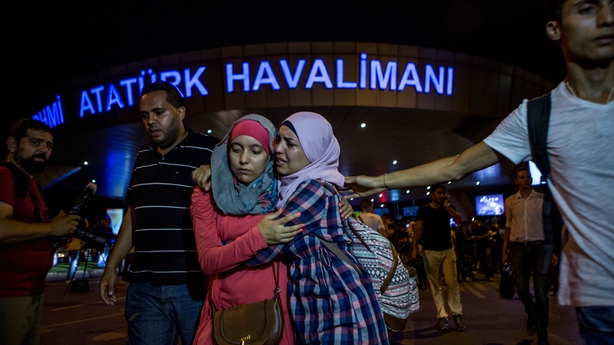 The attack bore similarities to a suicide bombing by Islamic State militants at Brussels airport in March that killed 16 people.
A coordinated attack also targeted a rush-hour metro train, killing a further 16 people in the Belgian capital.
Islamic State militants also claimed responsibility for gun and bomb attacks that killed 129 people in Paris last November.
"In Istanbul they used a combination of the methods employed in Paris and Brussels. They planned a murder that would maximise fear and loss of life," said Suleyman Ozeren, a terrorism expert at the Ankara-based Global Policy and Strategy Institute.
Turkey needs to work harder on "preventative intelligence" to stop militants being radicalised in the first place, he said.
The European airports association ACI Europe said airport security had been stepped up across the continent after the Brussels attacks, but said many of the fatalities in Istanbul came as people queued for security checks at the entrance.