Three suicide bombers opened fire before blowing themselves up at the entrance to the main international airport in Istanbul tonight, killing 31 people and wounding scores more.     
Police fired shots to try to stop two of the attackers just before they reached a security checkpoint at the arrivals hall at Ataturk airport, Europe's third-busiest, but they blew themselves up, a Turkish official said.             
Turkish broadcaster Haberturk cited the justice minister as saying 31 people had been killed, and 147 injured.
Istanbul Governor Vasip Sahin earlier told reporters that 28 people had been killed and around 60 wounded.
Broadcaster NTV said 106 people had been injured, while news agency Dogan said the death toll had risen to 32.
Several witnesses reported two explosions but Mr Sahin said authorities believed there may have been three suicide bombers.                           
There was no immediate claim of responsibility for the attack, the latest in a string of suicide bombings this year, but the Dogan said initial indications suggested the so-called Islamic State militant group may have been responsible, citing police sources.             
A Turkish official said it was too soon to assign blame.     
Ataturk is Turkey's largest airport and a major transport hub for international travellers.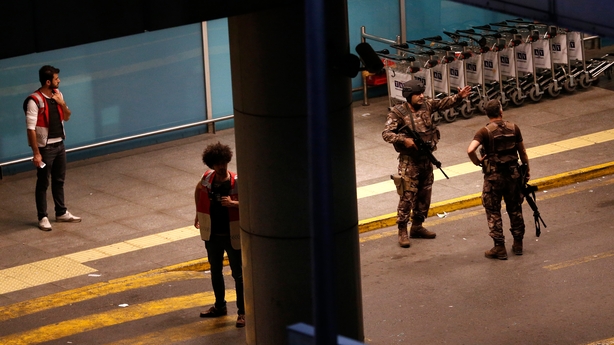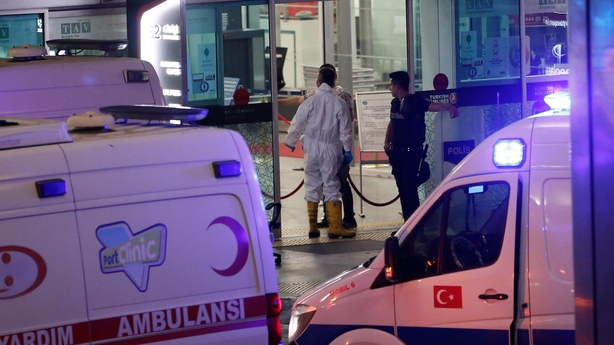 Dozens of passengers walked back down access roads with their luggage, trying to hail cabs. The US embassy urged US citizens to avoid the area.
A witness told Reuters that security officials prevented his taxi and other cars from entering the airport.
Drivers leaving the terminal shouted "Don't enter! A bomb exploded!" from their windows to incoming traffic, he said.
Television footage showed ambulances rushing to the scene. One witness told CNN Turk that gunfire was heard from the car park at the airport.
Taxis were ferrying wounded people from the airport, the witness said.            
Authorities halted the takeoff of scheduled flights from the airport and passengers were transferred to hotels, a Turkish Airlines official said.
Earlier an airport official said some flights to the airport had been diverted.
Turkey has suffered a spate of bombings this year, including two suicide attacks in tourist areas of Istanbul blamed on Islamic State, and two car bombings in the capital, Ankara, which were claimed by a Kurdish militant group.
In the most recent attack, a car bomb ripped through a police bus in central Istanbul during the morning rush hour, killing 11 people and wounding 36 near the main tourist district, a major university and the mayor's office.             
Turkey, which is part of the US-led coalition against Islamic State, is also fighting Kurdish militants in its largely Kurdish southeast.
JUST IN: Video shows people hiding inside a store at Istanbul's Ataturk Airport after blasts https://t.co/XEB0HSGmzYhttps://t.co/dJgewfIn8b

— CNN (@CNN) June 28, 2016