The number of people jailed for non-payment of court fines increased by 10% last year compared to the previous year.
In its annual report, the Irish Prison Service said there were almost 10,000 people committed to prison in 2015 for failing to pay a court ordered fine.
The report also shows an increase of 29% in the number of prisoners sentenced to 10 or more years in jail compared to 2014.
The number of people sentenced to life in prison reduced by a quarter last year.
Giving a snapshot of the prison population on 30 November 2015, the Irish Prison Service said there were 3,755 people in custody on that day.
Of those there was 345 prisoners serving life sentences and 254 serving determinate sentences of 10 years or more.
The average number of prisoners in custody last year was 3,722, a decrease of 5% on the previous year, at a cost of €68,628 per person.
There was a 9% increase in the number of people sent to prison last year to serve sentences.
The report also shows a total of 13,987 people were given a prison sentence in 2015, up from 12,853 in the previous year.
4,756 of these were for road and traffic offences, while more than 1,600 of the sentences were for offences against the State or organised crime.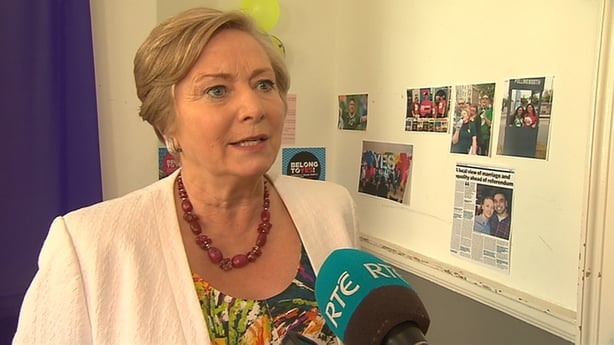 Speaking following the launch of the report, Tánaiste and Minister for Justice Frances Fitzgerald said the Prisons Act 2015 "finally delivers on the calls to close St Patrick's Institution which go back over 30 years.
"The Act, when fully operational, will repeal statutory provisions that enable the courts to order the detention of offenders under the age of 21 in St Patrick's Institution and will also delete references to St Patrick's Institution from the statute book."
The Jesuit Centre for Faith and Justice has been critical of the Irish Prison Service, saying chronic overcrowding continues in the Dóchas Centre, Cork prison and Limerick men and women's prison.
It said "there is no national roll-out of a cell share risk assessment which may have prevented the death of 21-year-old Gary Douche in 2006, no overarching strategies for older prisoners and prisoners on protection".
It also said there is no review of the placement of 18-21 year-olds with older prisoners as is currently the norm.
The Prison Service says its actions to reduce chronic overcrowding, as set out in its three year strategic plan to the end of 2015, is ongoing.
Ms Fitzgerald said a new strategic plan "aims to build on the considerable progress" made through the previous plan.