Drugs mule Melissa Reid has arrived back in the UK at Glasgow Airport having being released from prison in Peru after spending nearly three years in jail in Peru.
The 22-year-old smiled as she arrived at Lima Airport yesterday evening with her father and British embassy staff, before being whisked through security by Peruvian officials overseeing her deportation.
Reid, from Lenzie, East Dunbartonshire, was caught with 23-year-old Michaella McCollum, from Dungannon, Co Tyrone, trying to smuggle cocaine worth £1.5m in mayonnaise bags from Peru to Spain in 2013.
The pair - nicknamed the "Peru Two" - were jailed for six years and eight months after admitting the offence.
However, in May a judge granted Reid's expulsion under an early release scheme for deporting first-time drug offenders.
Janeth Sanchez, a spokeswoman for Peru's prison service, said that the Scot had "served her time in prison according to the law and can now go to her country, free, to the streets".
A Scottish Prison Service spokeswoman said it was not involved with Reid's case.
McCollum was freed in March under new legislation but was required to remain on parole in Peru.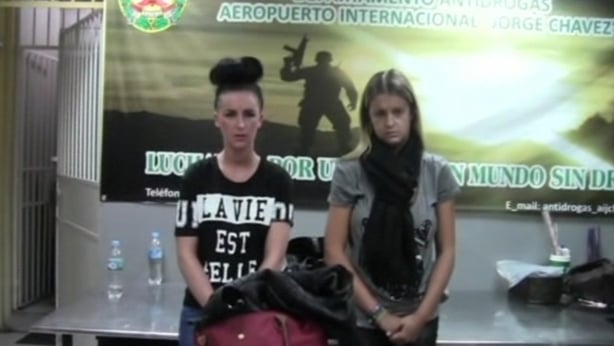 The pair were caught at Lima Airport on 6 August 2013 trying to board a flight with 11kg of cocaine in food packets hidden in their luggage.
They claimed they were forced into carrying the drugs, but pleaded guilty to the charges.
McCollum and Reid faced the prospect of a maximum 15-year prison term but struck a behind-closed-doors plea bargain to secure the shorter sentence.
Around nine in ten of the 1,809 foreigners in Peru's prisons are either sentenced or awaiting trials for drug trafficking.
Reid's father has previously said the impact of his daughter's crime on his family had been "horrendous" and spoke out in a video warning of the consequences of drug offences abroad.
A spokeswoman for the British Foreign Office said: "We continue to provide assistance to Melissa Reid and remain in contact with her family and local authorities."