The Cabinet has agreed proposals brought forward by Minister for Housing, Planning and Local Government Simon Coveney to freeze bin charges for 12 months.
While the current system will remain in place, householders will have the option to switch to the pay-by-weight system during that period.
It is understood the minister also brought proposals to ensure that householders do not have to pay-by-weight for adult incontinence pads.
Taoiseach Enda Kenny told the Dáíl that Minister for Communications, Climate Action and Environment Denis Naughten will examine the structure and manner of the waste system.
This morning the Irish Waste Management Association, a trade group made up of waste contractors from across Ireland, agreed to freeze bin charges for the next year.
The association, which says it manages three-quarters of all waste produced, said the agreement means that no householder disposing of the same quantities of waste will face any additional charges during that time.
Over the next year, householders will also be provided with a cost comparison that will show the amount of waste they are disposing of, their current costs and the equivalent pay-by-weight charges.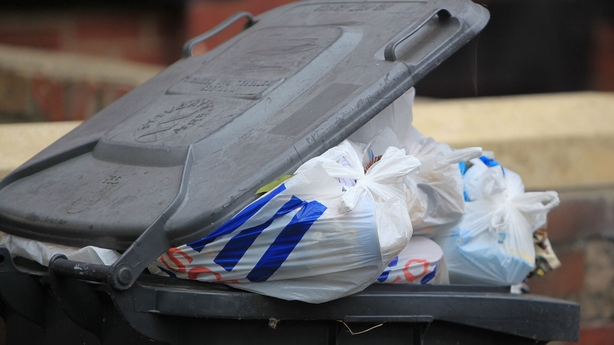 IWMA Secretary Conor Walsh said people needed more time to adjust to a pay-by-weight system.
"We now realise that there does need to be a smooth transition and I think in offering the price freeze and hoping we all use the next 12 months very usefully to work on awareness campaigns to let people understand the benefits of pay-by-weight".
Major operator Greyhound, while not a member of the IWMA, said it fully supports the new measures.
In a statement, City Bin said it was in agreement with the 12-month price freeze.
Mr Coveney and waste industry operators have been involved in talks in recent days over the planned introduction of the charges. 
In a statement, the IWMA also said its members have agreed to "provide a weight allowance to HSE patients supplied with incontinence wear to reduce their annual waste charges.  
"IWMA members are committed to an arrangement whereby the additional weight attributed to non-infancy incontinence wear will be collected free of charge."
The companies will get a €1.5m reduction in landfill fees to offset the scheme.
The waste companies will contribute the same amount to an information campaign.
The campaign will be followed by a period of dual billing where customers will be informed what their pay by weight bill would be.
They can opt into the system if they want.
After a year Mr Coveney said the pay-by-weight system, which is already used by 20% of customers, will be introduced nationally only if it has public acceptance.
Sinn Féin, however, has said the promise of a price freeze is not good enough.
Senator Rose Conway-Walsh said Sinn Féin will still table its motion in the Seanad tomorrow to annul the legislation.
Ms Conway-Walsh said kicking the can down the road was not a solution and urged all senators to support the motion.
Fianna Fáil's Barry Cowen said people should not be charged more for their waste collection than they currently are.
Speaking on RTÉ's Morning Ireland, Mr Cowen said a holistic approach to this issue is needed and that the public wants to be rewarded for recycling, not penalised.
He added that his party would be fair, reasonable and responsible in seeking to resolve the issue and is prepared to support a deal if the party believes in it.
AAA PBP TD Mick Barry has described the Government's handling of the issue as "a shambles".
He said Minister Coveney should be spending every minute dealing with the housing emergency, but instead has had to "run around" sorting the bins, a mess of his party's making. 
Mr Barry said waste companies had been prepared to ruthlessly exploit the pay-by-weight window, deliberately hurting the vulnerable.
He said the Government's "move along now, nothing to see" would not wash. "Something is clearly very wrong with how it is operating at the moment", he said. 
Mr Barry said the bin operators had revealed themselves to be "ruthless operators, probably operating a cartel".
"How on earth would you allow companies like this to maintain control? Far better to reverse this and give control of bins back to the local authority.'
Independent TD Seamus Healy said the 12-month freeze was simply not good enough. He asked what Minister Coveney had promised the companies from July 2017 onward? "Effectively I believe they have been told they can charge what they like", he said.
Minister Coveney said no assurances have been given to the industry in terms of what would happen once the 12-month period ends.
Responding to the AAA-PBP motion on waste charges, Mr Coveney said he had delivered the vast majority of what they had called for. He said there was concern that bills would increase, and he had acted on that.
"I asked industry to meet me at short notice, we met for three hours".
He said he had made it clear to them they would not be proceeding with the new charging system on 1 July.
The minister said around 20% of customers are currently on pay-by-weight and that no-one on the system wanted to change back.
This evening Mr Cowen said there had to be a root and branch review of waste industry once the 12 month period ends. But he said he was satisfied with the achievements (in the deal with the industry) and paid tribute to those involved.
He said the minister had achieved what was in the amendment and his party asked that the issue would be addressed and it has been addressed.
The National Standards Authority of Ireland, meanwhile, has said it would like to reassure the public that by law, all bin weighing equipment must be verified and sealed for accuracy.
In a statement, the NSAI said inspectors will regularly check bin weighing equipment to ensure it weighs bins accurately.