US Vice President Joe Biden has said that the anti-immigrant sentiments expressed by Donald Trump are damaging US international relations.
Speaking in a joint interview with RTÉ and The Irish Times ahead of his visit to Ireland, Mr Biden said that Mr Trump's "hateful rhetoric" was undermining the US's "capacity to lead around the world".
He said recent comments from the Republican party's presumptive presidential nominee did not reflect the history nor the values of the US, neither were his feelings "shared by the vast majority of the American people".
Mr Biden arrives in Ireland tomorrow for a six-day visit, taking in Dublin, Mayo and Louth.
In the interview, he said it meant "a great deal" to him to be able to visit Ireland.
He said the Irish values passed down to him have "shaped my soul" and he feels "incredibly privileged" to be able to share that heritage and this trip to Ireland with his brother, sister, children and grandchildren.
In the interview, the US Vice President said that he grew up in a household where his father, uncles and grandparents told him about "the courage and commitment" it took his relatives to leave Ireland "in the midst of tragedy - to distant shores, where they didn't know what awaited them".
"It took great courage", he said.
Mr Biden said that both he and President Barack Obama care deeply about immigration reform, saying the millions of undocumented immigrants in the US should be able to "take the appropriate steps to gain their citizenship", and that Mr Trump's rhetoric gave a "false impression of who we are as a nation".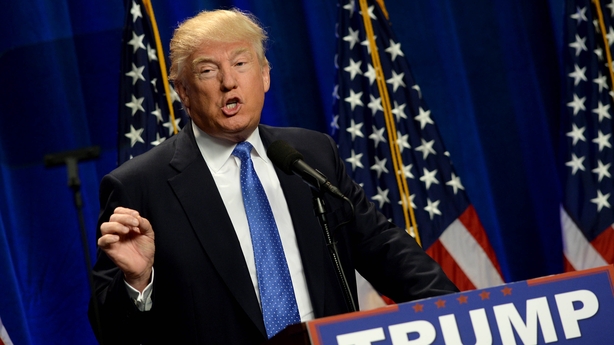 He said that the US has, in the past, seen "people spouting the same kind of hateful rhetoric", citing examples against Irish, Italian and Polish immigrants, but that the US had always "overcome the voices of fear".
Biden speaks of personal nature of upcoming trip to Ireland
Speaking on the issue of Northern Ireland, Mr Biden described it as a "remarkable transformation", and he was "proud" of the "small part" that he had played first as a senator and then in his current role to "help facilitate" the peace process.
He pledged that the US would continue to do everything it could to encourage "progress toward full reconciliation under the Stormont House Agreement", adding that it was in everyone's interest to see that Northern Ireland reached "its full potential for a peaceful and prosperous future".
He said the North was "an inspiration to nations around the world struggling to end long conflicts", in that it was "proof that long hatreds can end - that peace is possible".
There has been some recent violence in the North, such as the paramilitary-style shooting in April of Michael Fitzgibbon, and bomb threats made against several schools late last month.
When asked about the potential threat such violence posed to the agreement, Mr Biden said that it was "a reminder that peace takes work".
He called on political leaders to continue with their hard work, praising the "important work" they had done, and the "hard choices" they had made to resolve budget issues and implement institutional reforms; and to "counter residual paramilitaries".
But Mr Biden said there was "obviously more to do", and encouraged them to "keep moving forward", adding that "leaders have to take risks for peace".
Mr Biden will also hold bilateral meetings with Taoiseach Enda Kenny and President Michael D Higgins, before delivering a keynote address in Dublin on Friday.
A spokesperson for Mr Biden said that the bilateral meetings will involve discussions about trade and other ties between the US and Ireland, as well as the Northern Ireland peace process and European security.
Mr Biden's keynote speech will address "the Irish-American experience, the shared heritage of the two nations, and the values of tolerance, diversity and inclusiveness", said the spokesperson.