A 52-year-old man has appeared in court in London charged with the murder of British MP Jo Cox and gave his name as "death to traitors, freedom for Britain" when asked.
Thomas Mair appeared in Westminster Magistrates' Court charged with the murder of Ms Cox, an attack that shocked Britain and brought a temporary halt to campaigning ahead of next week's referendum on European Union membership.
Mr Mair has been charged with murder, causing grievous bodily harm, and possession of a firearm and another offensive weapon.
He refused to give his correct name to the court and remained silent when asked his address and date of birth.
He wore a grey jumper, tracksuit bottoms and black shoes and was handcuffed to a guard in the dock during the hearing.
He was not required to enter a plea and his lawyer Keith Allen said there was no indication of what plea would be given. He also told the court that legal aid has been applied for.
Deputy Chief Magistrate Emma Arbuthnot ordered that Mr Mair be remanded in custody until his next appearance, at the Old Bailey on Monday.
He will be held at Belmarsh Prison, and Ms Arbuthnot suggested that a psychiatric report should be prepared, saying: "Bearing in mind the name he has just given, he ought to be seen by a psychiatrist."
Yesterday police said they were focusing on alleged links to far-right groups and reports that Ms Cox's attacker was mentally ill.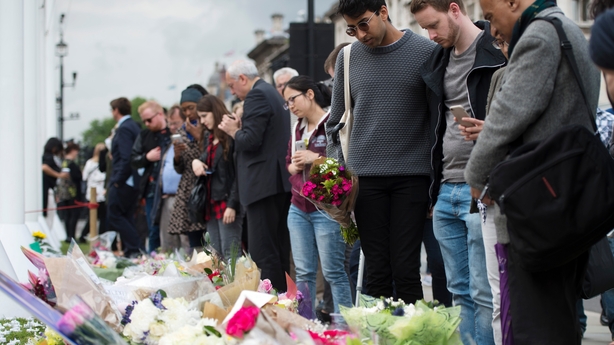 In a statement, West Yorkshire Police Chief Constable Dee Collins said detectives involved in the murder investigation, which is being aided by counter-terrorism specialists, were "keeping an open mind".
"We are aware of the speculation within the media in respect of the suspect's link to mental health services and this is a clear line of enquiry which we are pursuing," she said.
"We are also aware of the inference within the media of the suspect being linked to right-wing extremism which is again a priority line of enquiry which will help us establish the motive for the attack on Jo."
Eyewitnesses said that Ms Cox was shot two or three times before being stabbed as she lay on the pavement.
A 77-year-old man tried to help her and in turn sustained a "serious injury to his abdomen."
He is currently in a stable condition in hospital.
Numerous vigils and memorial events were held in honour of the late mother of two yesterday across the UK and Ireland.
Taoiseach Enda Kenny extended his sympathies on behalf of the Irish people to the family of Ms Cox during a visit to Manchester.
What an appalling tragedy. Jo Cox, a mother doing her public duty, her life taken away. My deepest sympathies to her family.

— Enda Kenny (@EndaKennyTD) June 16, 2016
In a statement the White House offered US President Barack Obama's sincerest condolences on behalf of the American people to Ms Cox's husband, Brendan.
Meanwhile, British Prime Minister David Cameron announced that parliament would be recalled on Monday to pay tribute to Ms Cox.