The Oireachtas Housing Committee has published recommendations on how to deal with the housing and homelessness crisis.
The cross-party group of 14 TDs has said the Government should ensure that home repossessions by banks are halted immediately.
The emergency committee was established in April to deal with what politicians from all sides of the Dáil described as a national crisis.
Committee members have now urged Minister for Housing Simon Coveney to quickly implement their proposals.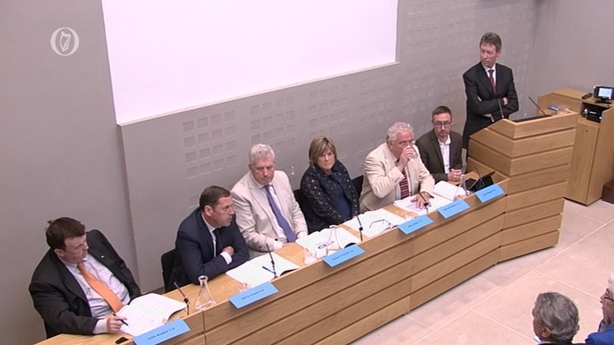 The final report of the committee makes more than 70 recommendations including an increase in rent supplement, the establishment of a housing procurement agency and an off balance sheet way of increasing investment in social housing.
It also calls for a system of rent certainty to be introduced by "linking rent reviews to an index such as the Consumer Price Index (CPI) and review annually".
The committee wants 50,000 social housing units delivered within five years, and for the rules governing NAMA to be changed to allow it to provide social housing.
Chairman John Curran said the measures to prevent further homelessness such as proposals to deal with mortgage arrears and increasing rent supplement must be accepted by the Government immediately.
Committee member, Fianna Fáil's Barry Cowen, said the extraordinary funding is required to deal with the housing issue.
Speaking on RTÉ's Six One news Mr Cowen said the establishment of a housing procurement agency, with the potential to work off-balance sheet, is the solution.
He also said a housing authority, that has the power to cut through obstacles and officialdom, is the bedrock of how the issue can be dealt with.
Independent TD Maureen O'Sullivan said the new housing committee will now closely monitor the Government's response to these recommendations.
Pat Doyle, the chief executive of homeless and housing charity Peter McVerry Trust, said the recommendation of a moratorium on repossessions was "hugely significant".
Mr Doyle also welcomed the recommendation to link rents to inflation "because the current rental rates are putting enormous financial pressure on incomes, driving more people into homelessness".