The cost of renting a home in Dublin city is now marginally higher than the previous peak recorded in late 2007, according to the latest rental index from the Residential Tenancies Board.
The index also pointed to a slowing rate of growth in monthly rents in the first three months of this year.
The RTB quarterly rental index is compiled by the Economic and Social Research Institute based on new tenancies signed in the three-month period and therefore captures actual rents being paid.
In the year to the end of March, rents nationally rose by just over 8.5% to average at €922.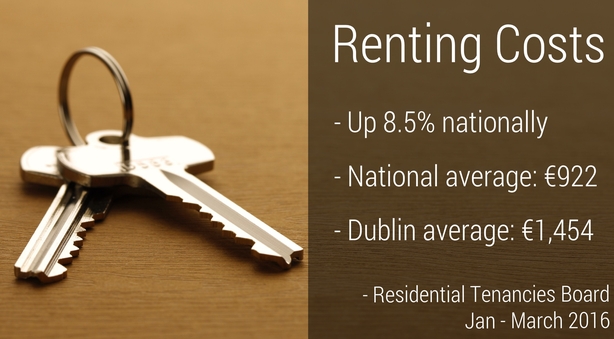 However, in the first three months of 2016 there was mounting evidence of a slowdown in the pace of growth with rents nationally increasing by just 0.5%, which compares with growth of 1.6% in the previous quarter.
The cost of renting a house actually declined by 0.3% in the period, but that was masked by growth of almost 2% in apartment rents.
The slowdown in the first quarter was most pronounced in the capital where rents increased by just 0.2%, compared to a hike of almost 1% outside Dublin.
However, at €1,454, the average Dublin rent at the end of March sat marginally above its previous peak recorded in late 2007.
Outside the capital rents were still about 14% off their peak levels.
Minister for Social Protection, Leo Varadkar, has said it is the Government's intention to increase rent supplement. 
Speaking on RTÉ's Today with Sean O'Rourke, Minister Varadkar said it will be increased by an average of 15% and that it will vary significantly across the country in line with how much rent has gone up in each county.
The Minister said exact figures have yet to be decided but that a decision would be made in the next few weeks. He said the increase in rent supplement would be brought in by July or August at the latest.
Director of the Residential Tenancies Board Rosalind Carroll has cautioned against perceiving a drop in rents as a "dampening in the overall rent sector". 
Speaking on RTÉ's Today with Today with Sean O'Rourke, Ms Carroll said while the latest survey shows rents may be steadying in Dublin, they are increasing in commuter areas.
"We don't know if this is a dampening in the overall rental sector, we do know that rents are still increasing in commuter zones now rather than in the Dublin city area, so we may be reaching affordability cap levels within the Dublin city area itself.
"What we would say is before cautioning whether there's an overall dampening effect, is traditionally when we get to quarter three that's when the students come on board and so we would expect to see increases again."
Ms Carroll said she does think that landlords did raise rents prior to the introduction of the rent freeze legislation, which led to a flux in the market just before the legislation came in to play.
Meanwhile, a world expert on homelessness has said the provision of social housing ultimately is the best way to deal with homelessness.
Speaking to Morning Ireland, Professor of Economics at Columbia University Dan O'Flaherty compared the homelessness crisis in 1990s in New York with Ireland's current homelessness crisis, particularly in relation to families being housed in ill-suited hotels.
He said in New York people were provided with subsidised apartments, but explained this also added to the problem as more people became homeless in the hope of securing subsidised accommodation.
However, despite the lessons learned, Prof O'Flaherty said the provision of social housing is the best way to solve the problem but urged against panic.
He said it is not a perfect solution, but it does work.
In the Dáil, Sinn Féin's Mary Lou McDonald criticised the Government for refusing to link rents to the Consumer Price Index.
Minister for Housing Simon Coveney said housing is the biggest issue on the Government's agenda and he has committed to a housing action plan within the first 100 days of Government.
He said that there have been many worthwhile initiatives but more needs to be done.
He said supply needs to be accelerated and the issue of the adequacy of rent supplement is being addressed with 1,000 families being offered a higher rent supplement with a higher rent ceiling.
New rules governing rent certainty have been provided for in a bill, he said. 
Ms McDonald said that this is a Government crisis and she asked if the Government would include rent certainty in its action plan in housing to be published in August.
She said she wanted rent certainty, increases in rent supplement and Housing Assistant Payment be included in the action plan.
Mr Coveney said misplaced policies created a construction boom and bubble that collapsed and the system of housing provision in this country was broken and it has to be built from scratch.