US President Barack Obama expressed heartbreak at the "horrific massacre" of 50 late-night revellers in Orlando, branding it an act of terror and hate.
"Today as Americans we grieve for the brutal murder, a horrific massacre of dozens of innocent people," he said.
Fifty people died and another 53 injured at the gay nightclub in Orlando
"Although it's still early in the investigation, we know enough to say that this was an act of terror and an act of hate," Mr Obama said, later ordering flags to fly at half-mast as an act of mourning.
"We stand with the people of Orlando who have endured a terrible attack on their city," he said.
"This is a sobering reminder that attacks on any American regardless or race, ethnicity, religion or sexual orientation is an attack on all of us and the fundamental values and dignity that define us as a country," he said.
"This massacre is therefore a further reminder of how easy it is for someone to get their hands on a weapon that lets them shoot people in a school, in a house of worship or in a movie theatre or in a nightclub.
"We have to decided if that is the type of country we want to be. To actively to do nothing is a decision as well," he added.
As a Muslim, I strongly condemn #OrlandoShooting, & all discrimination against LGBT community. Killer represents extremism and not Islam.

— Shaykh Umar Al-Qadri (@DrUmarAlQadri) June 12, 2016
In an letter to Mr Obama, Enda Kenny said: "Our thoughts and prayers are with the people of the United States, the community in Orlando and the LGBT community, and above all with the families and loved ones of those so senselessly killed and injured.
"Once again we have witnessed the horror of young people being attacked as they enjoy themselves in their own community.
"Words cannot capture the shock and revulsion felt in Ireland, and around the world, at this outrage," added Mr Kenny.
President Michael D. Higgins sent his condolences to the families of the victims of the shooting.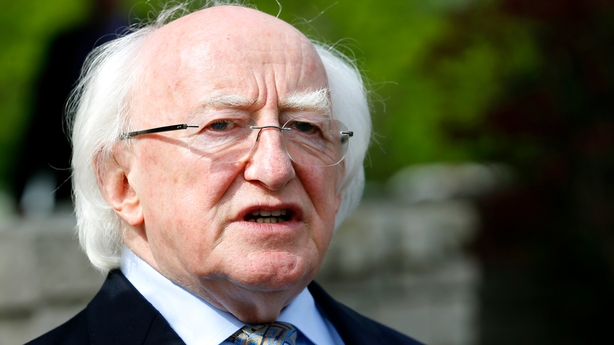 "As President of Ireland I wish to express my sincerest condolences to the families of all those bereaved and affected by today's tragedy.
"Our thoughts are with the people of Florida and the community in Orlando and Orange County at this difficult time. The loss of innocent life on such a horrendous scale is truly shocking and challenges us all," said Mr Higgins.
Denouncing the attack, British Prime Minister David Cameron said: "I'm horrified by reports of the overnight shooting in Orlando. My thoughts are with the victims and their families."
Pope Francis expressed "horror" over the "homicidal folly" of the nightclub massacre, and French president Francois Hollande said he "expresses the full support of France and the French with America's authorities and its people in this difficult time".
Sad day on Earth. We need to work together to solve this problem. Thoughts with those affected by #OrlandoShooting pic.twitter.com/5dP0xdBRVd

— Scott Kelly (@StationCDRKelly) June 12, 2016
Afghan president Ashraf Ghani added: "Severely condemn the heinous & unforgivable crime in Orlando. It was a coward act of terror. Praying for all those affected by this tragedy."
Archbishop Eamon Martin offers prayers for those killed and injured in the attack.
Dr Martin said: "Like many people across Ireland I have been greatly shocked and saddened when hearing of the shootings today in Orlando, Florida.
"On behalf of the Irish Catholic Bishops' Conference I wish to express my profound condolences and I offer prayers of solidarity from Ireland to those who have been touched by this tragedy in the United States."
Sickened by the #nightclubshooting in #Orlando, FL. My heart goes out to the victims, their families and loved ones.

— Nihad Awad نهاد عوض (@NihadAwad) June 12, 2016