John Major has criticised the "squalid" campaign for Britain to quit the European Union.
The Conservative former prime minister said he was "angry" about the "deceitful" claims being made by senior Brexit backers and accused them of "misleading" the public.
Taking aim at the former London mayor, Mr Major said Mr Johnson would not have the loyalty of Conservative MPs if he becomes party leader.
Senior Tory David Davis said the "harsh" attack had been a "very bad idea" and suggested it had been coordinated by No 10 Downing Street.
Mr Johnson warned there was "too much of this blue on blue action" and defended the way the Leave campaign was being run.
Mr Major warned the NHS would be "about as safe" in the hands of Mr Johnson, Justice Secretary Michael Gove and former Cabinet minister Iain Duncan Smith as a "pet hamster would be with a hungry python".
He told BBC One's Andrew Marr Show: "Firstly on the economy and what would happen if we actually left, the Leave campaign have said absolutely nothing to the British people and what they have said about leaving is fundamentally dishonest and it's dishonest about the cost of Europe.
"And on the subject that they have veered towards, having lost the economic argument, of immigration, I think their campaign is verging on the squalid."
He added: "I am angry at the way the British people are being misled, this is much more important than a general election, this is going to affect people, their livelihoods, their future, for a very long time to come and if they are given honest straightforward facts and they decide to leave, then that is the decision the British people take.
"But if they decide to leave on the basis of inaccurate information, inaccurate information known to be inaccurate, then I regard that as deceitful," added Mr Major.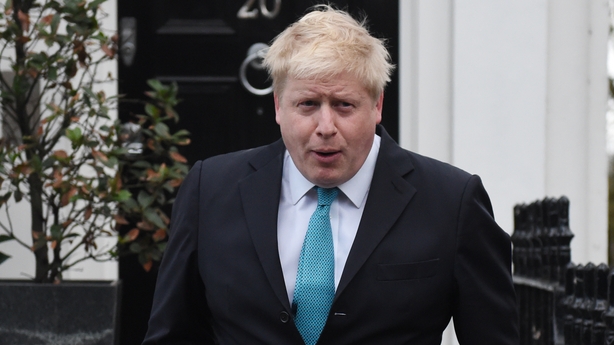 Mr Johnson (above) dismissed Mr Major's stinging assessment, insisting it was "not true" that the Leave's claims about Britain sending £350 million a week to Brussels was "fictitious" or the campaign was "squalid".
Asked if he believed the attacks against him were part of a plot to "take him out", the former London mayor, told Mr Marr: "Whether it is or not, I'm rather with John McDonnell this morning who says that there is too much of this blue on blue action and what he wants to hear is the arguments and that's where I am."
Mr Johnson said it was "absolute nonsense" that he was backing Brexit out of personal leadership ambitions.
"Obviously there is going to be a temptation by one side or the other to try to turn it into a personality-driven conversation. My view about the EU has changed but that is because the EU has changed out of all recognition."
Mr Johnson claimed the UK's population could rise "inexorably", potentially as high as 80 million.
David Cameron "didn't get a sausage" from his renegotiations on Britain's relationship with Brussels, he added.