Former world heavyweight champion Muhammad Ali, whose record-setting boxing career, unprecedented flair for showmanship, and controversial stands made him one of the best-known figures of the 20th Century, died last night aged 74.
Ali's family has said his funeral service will take place in his hometown Louisville, Kentucky, next Friday.
The funeral will be open to the public and will also be live streamed online at www.alicenter.org.
Former US President Bill Clinton and Billy Crystal will deliver eulogies at the memorial service on Friday.
There will also be a private service on Thursday.
His family has asked that in lieu of flowers and cards, donations be sent through the Muhammad Ali Centre in Louisville, to continue promoting his "legacy of humanitarianism".
A family spokesperson said that the funeral arrangements had been drafted years ago by Ali himself.
The spokesman said that the cause of death was "septic shock due to unspecified natural causes".
Ali had long suffered from Parkinson's syndrome, which impaired his speech and made the once-graceful athlete almost a prisoner in his own body.
Even so, Ali's youthful proclamation of himself as "the greatest" rang true until the end for the millions of people worldwide who admired him for his courage both inside and outside the ring.
"A part of me slipped away, the greatest piece," George Foreman, a former heavyweight boxer and one of Ali's most formidable opponents in the ring, said on Twitter after the news of Ali's death.
Roy Jones Jr, a former champion boxer who grew up during Ali's prime, also said in a Tweet: "My heart is deeply saddened yet both appreciative and relieved that the greatest is now resting in the greatest place."
Few could argue with his athletic prowess at his peak in the 1960s. With his dancing feet and quick fists, he could - as he put it - float like a butterfly and sting like a bee.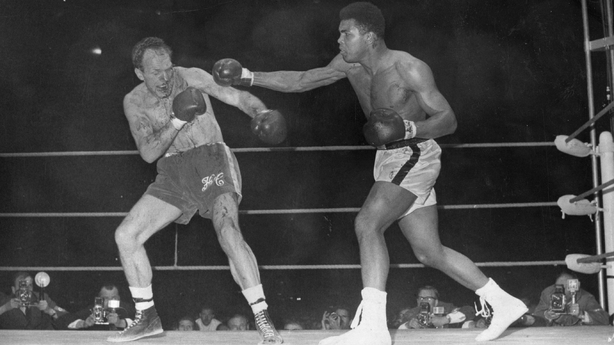 Muhammad Ali - An Obituary
Muhammad Ali - In his own words
Tributes paid to 'The Greatest'
He was the first person to win the heavyweight championship three times.
But Ali became much more than a colourful and interesting athlete. He spoke boldly against racism in the '60s, as well as the Vietnam War.
During and after his championship reign, Ali met scores of world leaders and for a time he was considered the most recognisable person on earth, known even in remote villages far from the United States.
Ali's diagnosis of Parkinson's came about three years after he retired from boxing in 1981.
His influence extended far beyond boxing. He became the unofficial spokesman for millions of blacks and oppressed people around the world because of his refusal to compromise his opinions and stand up to white authorities.
In a realm where athletes often battle inarticulateness as well as their opponents, Ali was known as the Louisville Lip and loved to talk, especially about himself.
"Humble people, I've found, don't get very far," he once told a reporter.
His taunts could be brutal. "Joe Frazier is so ugly that when he cries, the tears turn around and go down the back of his head," he once said. He also dubbed Frazier a 'gorilla' but later apologized and said it was all to promote the fight.
Once asked about his preferred legacy, Ali said: "I would like to be remembered as a man who won the heavyweight title three times, who was humorous and who treated everyone right. As a man who never looked down on those who looked up to him ... who stood up for his beliefs ... who tried to unite all humankind through faith and love.
"And if all that's too much, then I guess I'd settle for being remembered only as a great boxer who became a leader and a champion of his people. And I wouldn't even mind if folks forgot how pretty I was."
Ali was born in Louisville, Kentucky, on 17 January 1942, as Cassius Marcellus Clay Jr, a name shared with a 19th Century slavery abolitionist.
He changed his name after his conversion to Islam.
Ali is survived by his wife, the former Lonnie Williams, who knew him when she was a child in Louisville, along with his nine children.
In memory of 'The Greatest', don't miss this legendary interview between the late Cathal O'Shannon and the late Ali. https://t.co/NIHLBGP5Ji

— RTÉ Player (@RTEplayer) June 4, 2016