The funeral of 35-year-old Gareth Hutch has taken place in Dublin's north inner-city.
His coffin was carried in a funeral procession from his parents' house to the Church of the Holy Family on Aughrim Street.
The funeral procession was led by a lone bagpiper and the coffin was accompanied by a large crowd of mourners.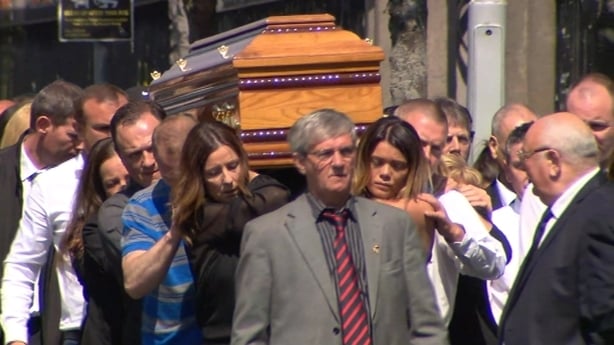 Just before the coffin was carried into the church a number of white doves were released to a short cheer from the crowd.
In his homily, Fr Paddy Madden said that "every tragedy has a human face. Beyond analysis, comment and speculation we have pain and tears.
"Life is precious, sacred, God-given.
"Gareth's primary concern was for the safety, well-being, care and protection of his son, Preston."
Fr Madden said that breaking the cycle of violence is not easy, "it needs courage, restraint, goodwill and right reason and a desire for peace."
"I know that the desire for peace is the springboard to a better future", he told mourners.
He said that Gareth Hutch's parents were mourning their child, numbed by grief and sadness.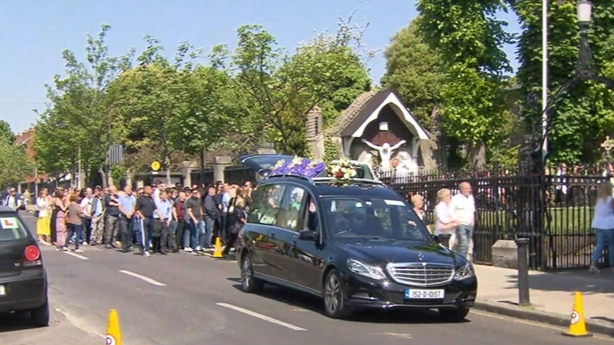 Burial after the funeral mass was at Glasnevin Cemetery.
Gareth Hutch was shot dead outside his home at Avondale House in Dublin on 24 May.
Two people have been charged in connection with the murder.
He is believed to be the seventh victim of a feud between two criminal gangs.