The Republican Party's presumptive presidential nominee Donald Trump has announced that he will visit Ireland later this month, at the same time that US Vice President Joe Biden is also due to be in the country.
The announcement comes just days after Taoiseach Enda Kenny described some of Mr Trump's remarks as "racist and dangerous".
He revealed his plan to visit Ireland in a series of tweets overnight, as scuffles broke out between his supporters and anti-Trump protesters at a rally in San Jose, California.
The billionaire businessman will visit Ireland after a previously arranged trip to Scotland to open a newly-renovated Trump golf resort in Turnberry.
Mr Trump said he will leave the US for Scotland on 22 June, and after reopening one golf resort, he will visit a second Trump property in Aberdeen.
From there he said he will visit the Trump golf course and hotel in Doonbeg, Co Clare, describing it as "the magnificent resort fronting on the Atlantic Ocean".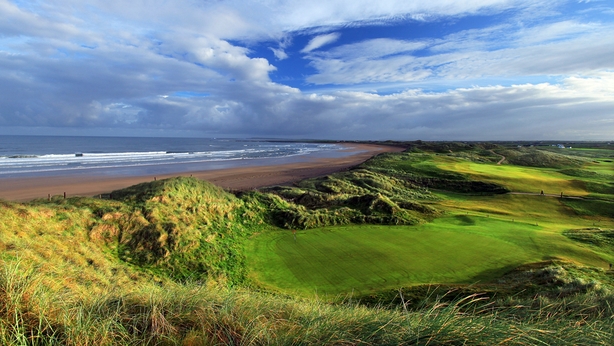 He is expected in Ireland on either 24 or 25 June, before returning to the US.
Mr Trump will be in the UK on the day of the Brexit referendum, and will be in Ireland during the same period as Mr Biden who is expected to visit Dublin, Louth and Mayo between 21 and 26 June.
Minister for Foreign Affairs Charlie Flanagan was not notified of Mr Trump's planned visit in advance.
But he said: "Our understanding is that Mr Trump is visiting Ireland in a personal capacity. As is the case with all visitors to this country, we wish him a pleasant stay."
After @TrumpScotland, I will visit @TrumpDoonbeg in Ireland, the magnificent resort fronting on the Atlantic Ocean.

— Donald J. Trump (@realDonaldTrump) June 3, 2016
Trump should be welcomed to Ireland 
Mayor of Clare James Breen said Mr Trump has invested heavily in Co Clare and has created employment.
The independent councillor said the presidential hopeful is entitled to visit his investment and that "anyone who invests in the country should be welcomed here" and that his political career "is a matter for the American people" and should be "left to one side."
Well-known local community activist Murt Mcinerney said Mr Trump is prepared to spend €10m on coastal protection needed along the Doonbeg coast, adding "so from that point of view he is very welcome."
Pressed earlier this week about his reaction to the businessman's controversial remarks on immigration, women and Muslims, Mr Kenny described his comments as "racist and dangerous" and said the American people had an alternative to vote for.
Mr Trump is expected to be formally named as the Republican nominee for the White House at the party's national convention in Cleveland, Ohio, in July.
Calls for protests against Trump visit
Meanwhile, the Anti-Austerity Alliance has called for a protest against Mr Trump's visit.
TD Paul Murphy said: "There should be a protest to send a clear message that he and his policies aren't welcome here and that we stand in solidarity with the thousands of people from all backgrounds who have protested against him in the US".
The AAA's Ruth Coppinger said: "Trump is a sexist misogynist ... Women and young people in Ireland who have campaigned for repeal of the 8th and against sexism and the oppression of women should mobilise against him."
While TD Mick Barry said Mr Trump's "racist policies are an attempt to drive a wedge between the different sections of the American working class and can be reflected in other countries. We are calling for people opposed to Trump and his policies to protest his visit and join the campaign to 'Dump Trump'."
Green Party Leader Eamon Ryan has called for "a peaceful, purposeful protest to show the world that Ireland rejects the divisive views espoused by Trump."
Mr Ryan said: "We will not meet our common challenges by building walls between nations or by demonising people of different faiths.
"We have skin in this game because his efforts to undermine climate action will put us all at peril. We have an obligation during this visit to say to our Irish-American cousins: 'Whatever you do, please do not vote for this man'.
Trump protesters, supporters clash outside rally 
Hundreds of protesters waved Mexican flags, chanted anti-Trump slogans and burned Trump hats and at least one American flag outside a rally in San Jose, where Mr Trump, to the delight of his supporters, vowed to stop illegal drugs from coming into the US from the south, to build a wall on the US border and have Mexico pay the bill.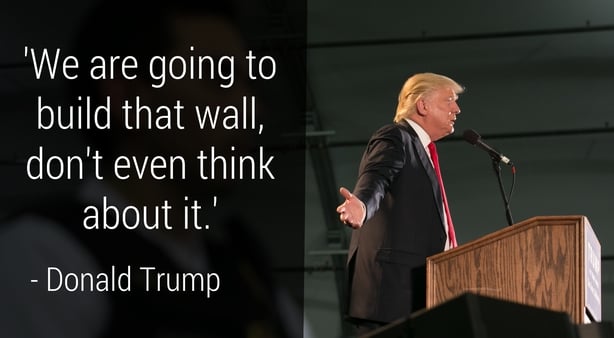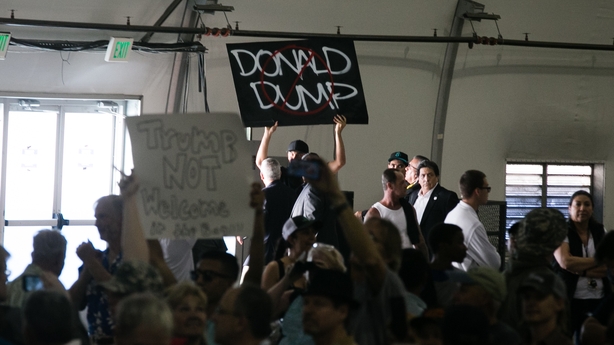 "We are going to build that wall, don't even think about it," Mr Trump said gave two thumbs up as his supporters chanted "build that wall."
Protests have become common outside rallies for Mr Trump, who has polarised opinion with his rhetoric against illegal immigration. He abandoned a rally in Chicago in March after clashes between his supporters and protesters.
"Violence against supporters of any candidate has no place in this election," John Podesta, the Hillary Clinton campaign chairman, wrote on Twitter in response to the clashes.
Footage also showed a woman wearing a Trump jersey being pelted with eggs and food as she entered the rally while in another video clip, a Trump supporter was seen bleeding from the side of his head.
Police were captured on video clips trying to disperse the crowd. Officers wearing riot gear were shown forming lines to control the crowd and taking at least one protester into custody.