Survivors of a shipwreck in the Mediterranean off the coast of Libya yesterday have said that 100 people may have drowned, the International Organization of Migration said this evening.
"The survivors who talked to our teams when they landed at Porto Empedocle [Sicily] spoke of 100 missing people who were stuck in the hull," IOM spokesman in Italy Flavio Di Giacomo said.
According to those who made it to land, the boat was carrying 650 people when it set sail from chaos-wracked Libya, "most of them Moroccans", Di Giacomo said.
Earlier estimates had put the toll of the disaster at five.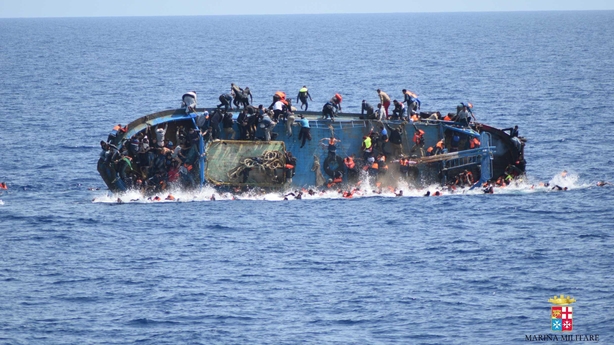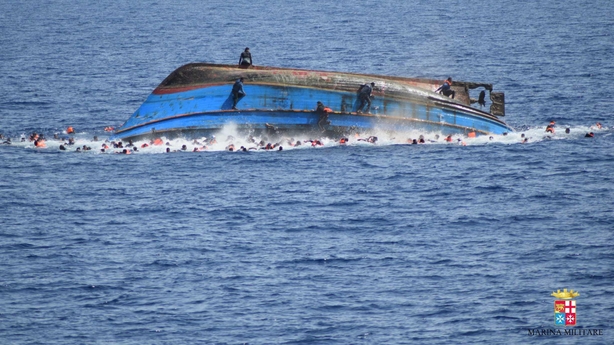 While the Italian navy was able to rescue 562 people from the water, the shipwreck may be one of the worst tragedies since the migrant crisis began.
Di Giacomo said it was rare for such large, heavy ships to be used by migrants seeking to reach Europe from Libya.
As well as Moroccans, many Tunisians and two Syrian families who had been living in Libya were among the survivors, he added.
Up to 30 drown as migrant ship sinks off Libya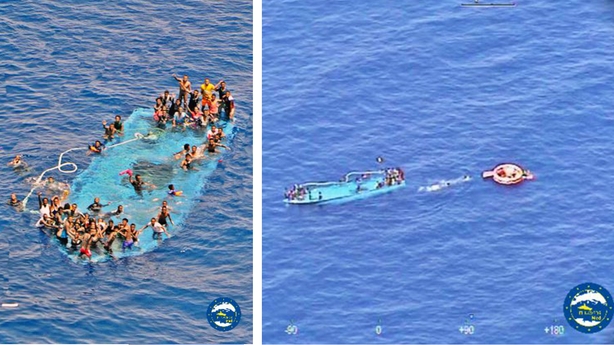 Meanwhile, up to 30 people are feared dead after a shipwreck off Libya this afternoon, while 50 migrants have been rescued from the water, according to the EU's naval force.
"We estimate the dead to be between 20 and 30 people," captain Antonello de Renzis Sonnino, spokesman for the EU's Sophia military operation to combat people smugglers in the Mediterranean, told AFP.
"A Luxembourg reconnaissance plane spotted a capsized boat around 35 nautical miles off the Libyan coast with about 100 migrants in the water or clinging to the sinking vessel," he said.
The Spanish frigate Reina Sofia and Italian coast guard raced to the scene and threw life-floats and jackets to those in the water.
"Unfortunately there were bodies too," de Renzis Sonnino said, adding that the rescue operation was still ongoing.
A spokesperson for the Italian coastguard said that it has concluded 20 operations rescuing more than 2,000 people off 15 migrant vessels.
In photographs released by EUNAVFOR MED on Twitter, migrants could be seen waving their arms for help as they balance perilously on the deck of the boat, already underwater but clearly visible.
Tusk calls for global solution to refugee crisis at G7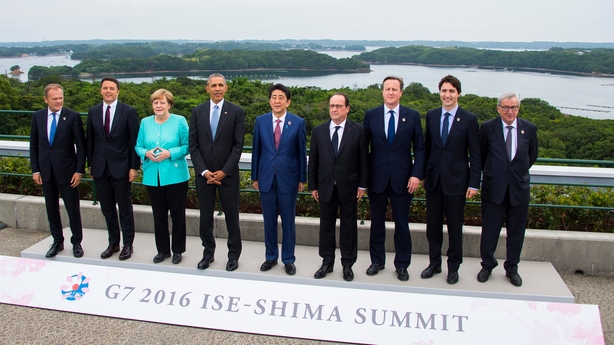 The President of the European Council has said he will seek support from the Group of Seven in order to secure more global aid for refugees.
Speaking in Japan ahead of a G7 summit, Donald Tusk said: "If we [G7] do not take the lead in managing this crisis, nobody would."
Mr Tusk also told reporters that "we are aware that it is because of geography that the most responsibility is, and will continue to be, placed on Europe.
"However we would also like the global community to show solidarity and recognise that this is a global crisis."
Donald Tusk calls for global solution to refugee crisis at G7 https://t.co/74EulOjWKAhttps://t.co/1MF8O8yILO

— RTÉ News (@rtenews) May 26, 2016
Last year, an estimated 1.3 million refugees, coming mostly from Syria and Iraq asked for asylum in the European Union - more than a third of them in Germany.
So far this year, the International Organisation for Migration says an estimated 190,000 migrants and refugees have entered Europe by sea, arriving in Italy, Greece, Cyprus and Spain.
More than 1,300 are known to have died en route.
Mr Tusk indicated that he would be asking world leaders to get behind a global solution.
Firstly, he said, the world needed "to commit to increasing global assistance so that immediate and long-term needs of refugees and host communities are met.
"The international community should acknowledge that when Turkey, Lebanon and Jordan assist refugees, they are in fact providing a global public route."
Secondly, he said, the G7 should encourage international financial institutions and other donors to boost their contributions.
"In this regard, the EU fund for Syria, Africa and Turkey along with the work of the European investment bank serves as a role model for all of us.
"Third, that the G7 encourages the establishment of resettlement schemes and other legal forms of migration all around the world."
The crisis is expected to be one of the headline issues at the summit, as well as discussions on the health of the global economy.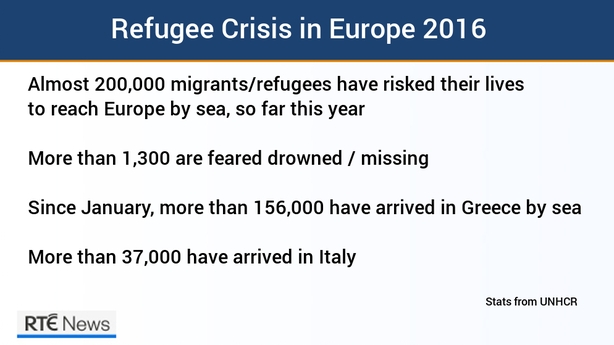 Numbers increase at 'Jungle' camp
Hundreds more migrants and refugees have made their way to Calais on France's north coast in recent months despite the bulldozing of part of camp known as the Jungle.
Official figures from the Pas de Calais region put the total in tents, shanties and a new state-run city of converted shipping containers at 3,900, up from 3,500 at the end of March, but well down from the peak of over 6,000 reported in September.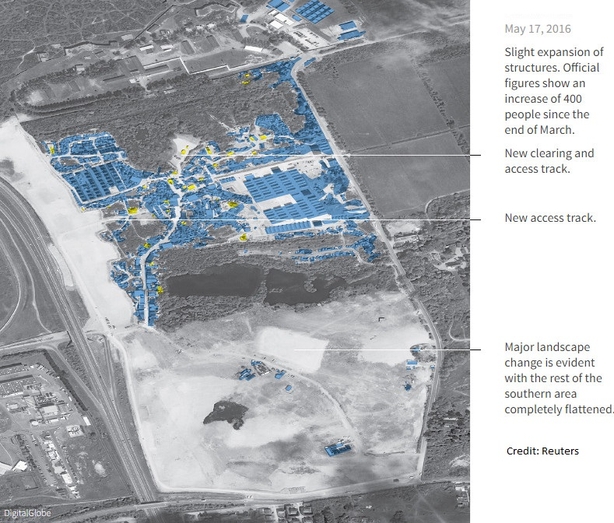 And according to local aid organisations - who have long been at odds with the official count - numbers in the camp are much higher at somewhere between 5,000 and 7,000 people, of whom several hundred are unaccompanied children and teenagers.
"We still see people arrive, the situation on the ground remains very difficult for refugees and specifically children," Marianne Humbersot, a lawyer who offers counselling for migrants, said.
Many of those fleeing war and poverty in the Middle East, Africa and elsewhere still try reach Britain, where they hope to resettle, either by climbing onto lorries heading onto ferries or by breaking into the nearby Channel Tunnel.
These efforts are in spite of additional UK-funded security measures introduced in October including extra fencing, cameras and hundreds of additional police officers.
The camp itself has changed shape significantly this year.
A state-run park of converted shipping containers with capacity for 1,500 beds opened in January in the north of the jungle area. The southern half was cleared two months ago.
In another part of the northern section, migrants have been invited to move into dozens of large heated tents.
Refugees have also been encouraged to leave the area by bus for one of France's 136 reception facilities.
A Pas de Calais spokesman said almost 4,000 refugees had travelled to these reception centres since November last year.