A 30 kilometre speed limit on all non-radial roads in Dublin city centre could be in place by the end of the year following a decision by councillors.
Members of the Transport Committee voted to extend the limit to most roads between the canals.
If this is passed by a full meeting of councillors it will become law.
It applies to all streets, except radial routes such as Clanbrassil St or Amiens St which would remain at 50km/h.
Transport Committee Chairman Ciaran Cuffe welcomed the decision, saying "this is following a trend in cities worldwide to lower speed limits because it saves lives".
The committee also supported the final draft of the Dublin City Centre Transport Study, which would introduce a series of restrictions on private cars in the core city centre area.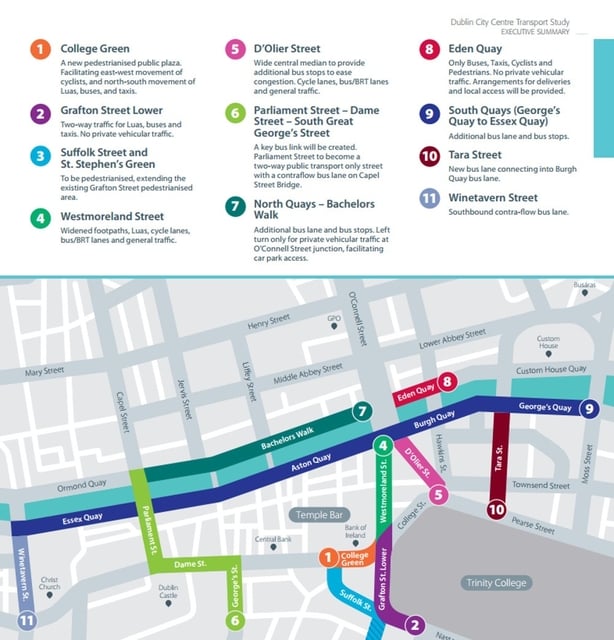 A reversal of plans to ban cars from Dublin's Bachelor's Walk is among a number of changes announced to the Dublin City Centre Transport Study following public consultation.
The study was published last year and included a new car free plaza on College Green.
The main change in the final draft is that cars would be allowed to turn left from Bachelor's Walk to O'Connell St to allow access to Arnott's car park.
Instead Eden Quay would be closed to private cars except for access and deliveries.
There would not be any sections on the South Quays closed to private cars but there would be more bus lanes.
The plan still provides for pedestrianising St Stephen's North and Suffolk St while Parliament St would become bus only.
D'Olier St would become a bus interchange and cars would not be allowed to turn left from Westmoreland St onto Aston Quay.
Councillors have also supported changes to the Liffey Cycleway which would see the two-way track diverted from the quays along the Luas line at the Aisling Hotel, North of Croppies Acre and through Smithfield before rejoining the quays at Church St.
Under this plan cyclists would be travelling on the Luas track at one section.
It is part of a designated cycle track to link the Phoenix Park with the Docklands.