Drivers at the Luas light rail system in Dublin have staged another one-day strike, the eleventh since the dispute over pay began earlier this year.
Drivers will strike for a further two full days this month on 20 and 27 May. Four-hour stoppages are also planned for 26 May, 2 June, 3 June, 7 June, 8 June, 9 June and 10 June.
Transdev Managing Director Gerry Madden has again insisted the tram operator is open to further negotiations with SIPTU in an effort to end the long-running dispute.
Mr Madden said that while the gap between what workers want and what the company could afford was still significant, he believed agreement was possible if staff would accept increased productivity.
He said the strikes to date had been massively disruptive, adding that they were clearly not resulting in achieving workers' demands.
Speaking on RTÉ's News at One, Mr Madden said the company is not looking at laying off drivers, but he said the measure has been "signposted" and said the company is in a grave situation.
"I don't see anything like that happening within days, I've got a meeting on Monday with our legal team," said Mr Madden. "I want to explore what means we have to try and resolve this dispute.
"I still would go back to the point that the best way to resolve a dispute is in the conventional way, with reasonableness."
Luas operator Transdev says it's open to talks with drivers on pay but the gap on demands is still significanthttps://t.co/kawqpEmEKp

— RTÉ News (@rtenews) May 13, 2016
However, SIPTU has accused Transdev of locking its members out of talks in the ongoing dispute.
Speaking on RTÉ's Morning Ireland, SIPTU Divisional Organiser Owen Reidy questioned whether Transdev intended to humiliate drivers into agreeing to a reduced pay deal after they rejected the deal offered at the WRC.
Mr Reidy said drivers wanted to resolve the dispute but required a "fair and sustainable" deal with management to do so.
He said that the company had refused to agree to talks for the last 19 days and also would not engage in talks that involved a third-party negotiator.
Mr Reidy contended that a letter issued by Transdev to Luas drivers is not an invitation to talks.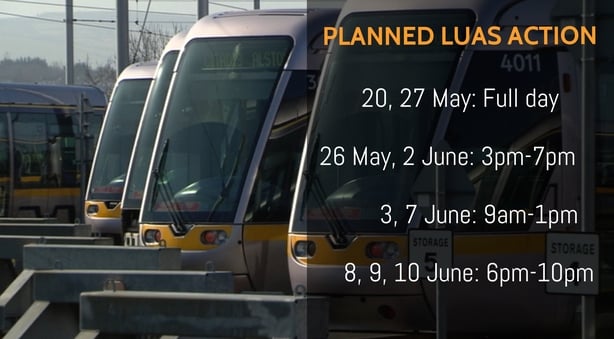 Meanwhile, Luas drivers have amended the times of their additional strikes scheduled for June in order to avoid potential disruption to students doing the Junior and Leaving Certificate examinations.
They have now formally notified Transdev that the strikes on 8, 9 and 10 June - the first three days of the State examination timetable - will take place between 6pm and 10pm.