Luas operator Transdev has said it is prepared to recommence talks at any point with Luas drivers in a bid to resolve the long-running dispute over pay and conditions, whenever the drivers and their representatives indicate that there is a solid basis for doing so.
In his letter to staff, Transdev Managing Director Gerry Madden says today's correspondence is not about issuing threats - but is intended to convey his serious concern for all parties if the dispute continues into June.
He says staff may believe they have no choice but to continue with the industrial action - and that in many ways it may be easier to do so than to ask the question: "How is this all going to end?"
He writes that workers may feel they are "in it so deep" and have lost so much this far that a few more days will not make that much of a difference.
However, he warns the dispute has consequences beyond money and beyond the people that remain in dispute.
He says many of the almost 300 Transdev employees are now seriously concerned about their future and long-term job security.
He says he believes they have one final opportunity to resolve the dispute amongst themselves "before very serious consequences arise for all of us".
Mr Madden says he is committed to ensuring that all staff enjoy fair and reasonable pay and conditions, with a decent package of benefits that are fully in line with the market - no more and no less.
However, he warns that the opportunity to work in jobs offering long-term job security with decent pay and conditions will be compromised, the longer the dispute continues.
Mr Madden says it is his earnest desire to find a resolution to the dispute on fair terms - and urges the drivers to consider that possibility, rather than wasting more money time and energy on what he calls a futile course of action that will lead to very serious consequences.
He also urges staff to think about what improvements in pay can be achieved over the remaining term of the operating contract, which runs to 2019.
He says they should reserve their position in relation to their aspirations for further pay progression in 2019 and beyond.
He says they must all be realistic about what can be achieved in the short-term, up to the end of the current operating contract.
He says there will be multiple opportunities for further negotiations on pay and conditions in the future - adding that it seems to him that at present there is an undue focus on the next two-three years as if this is the last opportunity to negotiate with the company.
Mr Madden concludes by saying that he hopes his letter is received in the spirit in which it is intended - and that the drivers and their representatives will take stock of what is realistic and achievable up to September 2019 as part of a longer-term focus on maintaining quality jobs and relatively secure employment.
Luas strike times amended for State exams
Meanwhile, Luas drivers have amended the times of their scheduled strikes in June to avoid disruption for Leaving and Junior Certificate students.
SIPTU shop steward for the drivers Richard McCarthy said the drivers had not been aware of the implications for students when they scheduled the original dates and times.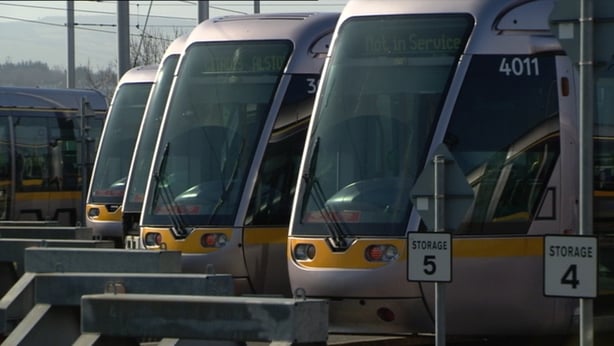 However, they have now formally notified Luas operator Transdev that the strikes on 8, 9 and 10 June - the first three days of the State examination timetable - will take place between 6pm and 10pm.
The move will come as a relief to students and parents who were concerned about potential disruption to travel plans on exam days.
As part of their long-running deadlocked dispute over pay, the drivers have already shut down the service for ten days.
They are due to hold further stoppages tomorrow, next Friday 20 May, and on 26 and 27 May.