The Programme For Government published today has promised an action plan on housing within 100 days.
It also states the administration will operate on the concept of "good faith and no surprises".
Key points in the programme include a reformed and more comprehensive way of dealing with the budgetary situation.
Taoiseach Enda Kenny said new Cabinet committees on health and housing would meet over the next two days.
Its publication comes after the Cabinet met at Government Buildings this morning for the first time since the ministers were appointed.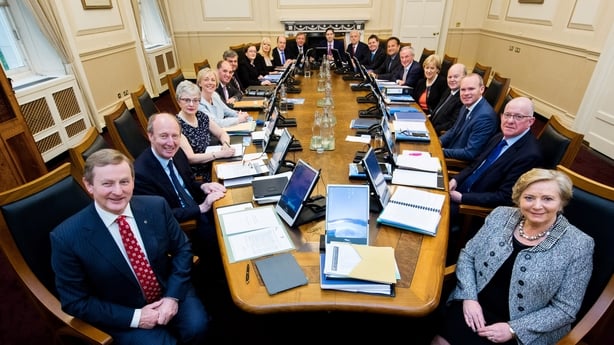 In a statement, Taoiseach Enda Kenny said the document is "extensive but at its core is a simple objective: to make people's lives better in every part of Ireland."
Mr Kenny added that the "Government will work with all members of the Oireachtas and with wider society to deliver real and positive change for the people of Ireland."
He also indicated key priorities for the Government include the establishment of a rural broadband task force and the reactivation of a national treatment purchase fund to reduce hospital waiting lists.
A reduction in the number of patients waiting longer than six hours in emergency department from 32% to less than 7% by 2021 is one of the stated aims of the programme.
The document, which runs to 156 pages, outlines a number of policies already well reported.
These include reforming the HSE into "a more efficient and transparent health service", as well as implementing a national obesity plan.
Funding for home care and home help packages will increase every year while a ten-year health plan is to be established by an Oireachtas committee.
The document commits to creating 200,000 jobs by 2020 and increasing spending on public services by at least €6.75bn by 2021.
It also says the Government will aim to "meet the target of building 25,000 new homes needed every year by 2020."
A help-to-buy scheme for first-time buyers is outlined in the programme.
It states that the new court for mortgage arrears will hold its hearings in private if requested by the debtor.
In relation to crime, garda numbers are to be increased to 15,000 while a review of garda districts will be carried out.
The document also states that junior ministers will have formal participation in Cabinet and Cabinet committees.
As previously announced, the programme says new ministries will be appointed, dealing with rural affairs and housing.
It also reiterates the phasing out of the Universal Social Charge and increasing the minimum wage to €10.50 an hour over the next five years.
It proposes a review of the western rail corridor phase two between Athenry and Claremoris for passenger and freight use.
On rural issues, the programme says the Government will publish new legislation to de-designate 46 national heritage areas within the first 100 days, while it will review the position in relation to the planning code regarding turf cutters for domestic use.
It reiterates there will be no closure of small schools, while the mandatory merger of existing technological institutions will be reviewed if it is not feasible for geographical reasons.
The teacher appointment threshold in schools with four or less teachers will be reviewed within three months.
A report on integrating the rural bus network and the HSE transport network will also be conducted within the first six months of the Government.
Child Benefit proposal criticised
The Children's Rights Alliance has criticised a proposal included in the Programme for Government to link the payment of Child Benefit to school attendance.
The document states that the Government will "reform the monitoring of child benefit payments" by amalgamating two existing school attendance monitoring systems, "to address poor attendance within some families".
Chief Executive Tanya Ward called it "a daft proposal that would seriously undermine the rights of children".
Ms Ward said Child Benefit was a universal payment designed to help families with the cost of caring for their children. She said it should be in no way used as a tool to punish parents and families.
Ms Ward said the Children's Rights Alliance was "bewildered" as to why this proposal has been included.
Ministers insist water charges must be paid
Earlier, several ministers said people must pay their water charges before their expected suspension begins as per the law.
Ministers Paschal Donohoe and Simon Harris both calling for everyone to pay water charges including Cabinet colleague Finian McGrath.

— Sandra Hurley (@sandra_hurley) May 11, 2016
A spokesman for the Taoiseach said Mr Kenny is of the view that Junior Minister Finian McGrath ought to pay his water charges as it is the law of the land. Mr McGrath has said he has not paid his water charges.
The spokesman could not say whether the Taoiseach had said that directly to Mr McGrath.
Earlier, Minister for Housing Simon Coveney said that those who have already paid their water charges should not be disadvantaged in any way and people will not be allowed to get away with not paying.
Speaking on RTÉ's Today with Sean O'Rourke, Mr Coveney said that decisions will have to be made on how to recoup money that is owed.
Asked about his Cabinet colleague Finian McGrath and the payment of water charges, Mr Coveney said that Government ministers should lead by example and should pay their taxes including water charges.
Mr Coveney said the Government is committed to putting a new housing strategy in place and that what is happening in housing is a national emergency, which needs an appropriate response.
He said former environment minister Alan Kelly did a lot to try and increase the supply of housing and he intends to continue and intensify those efforts.
The minister said one of the biggest social housing build plans that Ireland has ever seen is about to be undertaken and all the chief executives of local authorities will meet him tomorrow where he will talk through what they need to ensure they can spend the money that will be made available to them.
In addition, he said extra money would be made available to open up sites and if necessary, he would encourage them to use emergency powers to fast track the planning system.
Mr Coveney said a clear picture is needed of what the authorities feel they are capable of doing and how long it will take to achieve that.