Three Labour TDs are considering going for the leadership of the Party following Joan Burton's decision to resign from the position yesterday.
Brendan Howlin, Jan O'Sullivan and Seán Sherlock are all considering the position.
Mr Howlin has said he is giving very serious reflection to the position.
The former public expenditure and reform minister said he has not made up his mind yet, but is going to contemplate on whether it is the right thing for him and for the party over the next couple of days.
When asked if he was ruling out taking part in an election for leader, he said "certainly not".
He said he had no fear of an election within the party but added that "we need to hit the ground running".
He said "it's a good thing" that there are so many people interested in the position.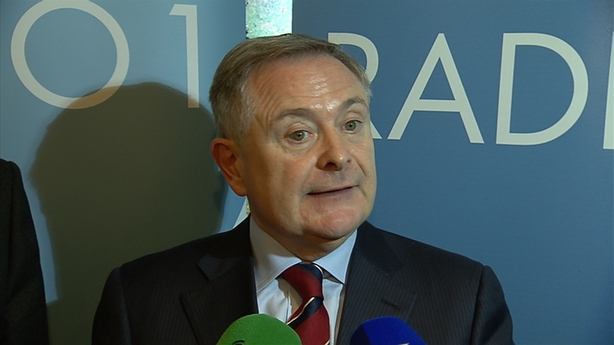 Speaking on RTÉ's Morning Ireland, Mr Howlin said he has always had an ambition of being leader and has worked closely with every Labour leader since Dick Spring.
"I believe that working together in a new type of leadership, not with one person leading out front, but in a collective leadership we will make a huge difference in restoring the fortunes of Labour quicker than you imagine."
Speaking on the same programme, Ms O'Sullivan said she is considering entering the leadership race.
The Limerick City TD said: "I am certainly not ruling myself out. There are a number of us who are considering it over the weekend."
She added: "I know that I would have, certainly, some support within the party".
Ms O'Sullivan, who was minister for education in the Fine Gael-Labour coalition, also said the option of a "consensus leader" would be supported by her and other members of the parliamentary party.
Mr Sherlock, a TD for Cork East and a former junior minister, said he is considering his position on the leadership but told RTÉ News he would not be making any further comment for now.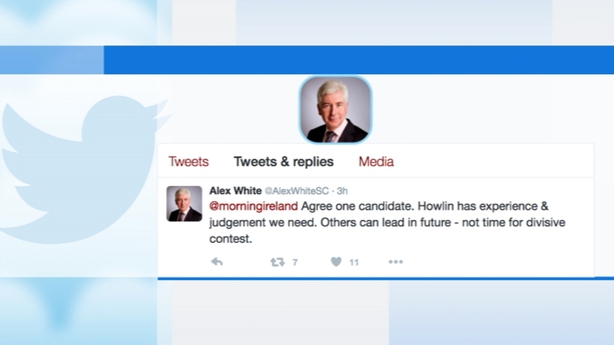 Former minister for communications Alex White signalled his support for Mr Howlin, saying in a tweet that he has the "experience and judgement we need".
@morningireland Agree one candidate. Howlin has experience & judgement we need. Others can lead in future - not time for divisive contest.

— Alex White (@AlexWhiteSC) May 11, 2016
Former party leader Pat Rabbitte has also said that Mr Howlin would be the best person to succeed Joan Burton, who announced yesterday that she is stepping down as party leader following a disastrous General Election, which saw Labour lose 30 seats.
The party's deputy leader, Alan Kelly, and former minister of state Sean Sherlock are viewed as the main contenders to become leader.
Mr Sherlock has said he is considering his position in relation to the leadership, but would be making no further comment.
Howlin accepts Labour made mistakes
Mr Howlin said the party made mistakes in government, but defended Labour, saying "we were making real time decisions every day" which were crucial to Ireland's recovery.
He said the biggest mistake, from Labour's perspective, was not standing their ground on the timescale for the delivery of Irish Water even if it meant bringing down the government.
He said he and then party leader Eamon Gilmore made a decision that the interests of the country was "more important than swallowing that which we knew was a mistake".
Of the party's performance in the General Election, he said when Labour went into government in 2011 people were frightened for their futures and those of their children and "when we steered the ship into calmer waters, people looked back and were resentful for the pain".
Brendan Howlin "certainly not" ruling out standing in a Labour leadership contesthttps://t.co/gGIEFiYWNX

— RTÉ News (@rtenews) May 11, 2016
On the issue of water charges, Mr Howlin said that the party's view has always been that there should be a generous allowance of free water.
He said that meters were installed to encourage conservation of a precious resource.
He said that those who have paid their bills to date should be repaid.
Referring to Finian McGrath's confirmation that he has not paid his water bill, Mr Howlin said the notion of having a super junior minister sitting at the Cabinet table who has not paid his water bills is "constitutionally unacceptable".
"You cannot purport to constitutionally make the laws of the State, impose taxes on people and then say it's all right to pick and choose the ones you pay and the ones you don't.
"All taxation policies will collapse on that basis. There are the anarchists in the Dáil now and outside the Dáil who will advocate that but people who respect parliamentary democracy will resist that tooth and nail.
"Decent people who have obeyed the law will not be made fools of."