Joan Burton is to step down as head of the Labour Party once a new leader is elected but has not expressed a preference for who will succeed her.
Ms Burton made the announcement at a press conference this afternoon following a meeting of the Labour parliamentary party.
She said she had asked the party's executive board to make arrangements for the election of a new leader.
It had been a great honour to serve as leader and deputy leader, she said.
Joan Burton is to stand down as leader of the Labour Party once her successor is elected https://t.co/DV7xN5fVnihttps://t.co/bDfrqTHn42

— RTÉ News (@rtenews) May 10, 2016
In 2011, she said, the people of Ireland asked Labour to take on the responsibility of government.
She said she entered government with both hope and fear in her heart; hope that they could turn things around and fear that the situation had deteriorated to the point of no return.
In the five years that followed, she said they helped people back to work, safeguarded the social protection system against people who would have stripped it to the bone and built new schools.
But she said she was aware that for many Labour could not deliver quickly enough.
"We didn't do everything right but I believe we left Ireland a better place and I think that's the true test for any party in government.
"So while the election was disappointing, very disappointing, our fightback has already begun."
Speaking on RTÉ's Six One, Ms Burton said that she made the decision to step down a number of weeks ago, with the party now in recovery mode.
She said Labour members did not want any change of leadership while the party was still in government, and that she decided to make her move known as soon as the process of government was completed.
Deputy Burton said she is most proud of reducing unemployment, saying it has been a huge improvement for the country.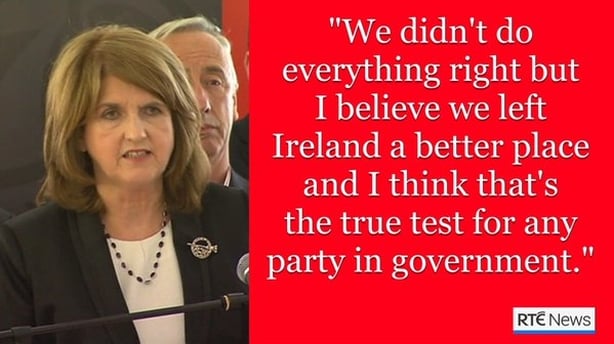 The former tánaiste was elected party leader in 2014 when Eamon Gilmore stood down following local and European elections.
Ms Burton was minister for social protection in the last government, as well as serving as tánaiste from July 2014.
The party's deputy leader, Alan Kelly, and former minister of State Sean Sherlock are viewed as the main contenders to become leader.
Ms Burton said the issue is one for the party and she does not intend to be involved in the selection process.
Earlier, former party leader Pat Rabbitte had said that Brendan Howlin would be the best person to succeed Ms Burton.
It is understood that the former minister for public expenditure and reform would only accept the leadership if it was uncontested.
Speaking on RTÉ's Morning Ireland, Mr Rabbitte said Mr Howlin's experience and competence would make him a safe pair of hands in a changed Dáil where no one knows how soon an election will be called.
He said: "We don't know how quickly we will face a general election and, in those circumstances, I would have thought there would be merit in Brendan Howlin emerging as the agreed candidate."
Mr Rabbitte said it would have been better if the party had "resolved this issue" of the leadership in the ten weeks since the election.
However, he said Ms Burton "couldn't have envisaged at the Citywest meeting when she made her announcement that it would take the Government ten weeks to be formed".
Taoiseach says Burton did what was right for country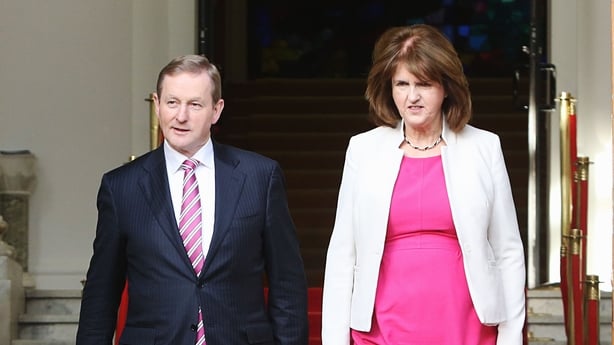 Taoiseach Enda Kenny has paid tribute to Ms Burton, thanking her for her work in government over the past five years.
He said: "During this time, she and her ministerial colleagues in the Labour Party played a major role in rescuing the Irish economy, which was on the brink of collapse when we entered government in 2011.
"Many of the tough decisions that had to be taken to turn the country around were unpopular and politically difficult but Joan Burton and her colleagues were steadfast in doing what was right for the country.
"In her role as minister, Joan Burton spearheaded many of the welfare reforms that helped the last government to surpass our job creation targets to the point where the unemployment rate has been reduced from over 15% to 8.4%.
"I would like to wish Joan Burton, her husband Pat and family every success and happiness in the future."