Canadian officials have gotten their first glimpse of the oil sands town of Fort McMurray since a wildfire erupted and saw a "heartbreaking" number of destroyed homes but a largely intact business area.
The fire that has ravaged some 161,000 hectares of Alberta moved far enough away from the evacuated town of 88,000 people to allow an official delegation led by the province's premier, Rachel Notley, to visit.
"Massive residential damage ... couldn't keep track of the unaffected streets. Large portions destroyed," Ward Councilor Tyran Ault said on Twitter, adding that the neighborhood of Beacon Hill was in "heartbreaking" condition.
Other parts of the city were in better condition, he added, saying, "Downtown looks great. Business unaffected! Hospital too. Burnt trees and smouldering visible across the Clearwater(River) though."
Reporters on the tour viewed the charred rubble of Beacon Hill, where some 80% of the homes had been burned to the ground and the wreckage of blackened and melted cars remained on roads.
However, Fire Chief Darby Allen told reporters that 85% of the buildings in Fort McMurray had survived the blaze.
That assessment came a few hours after insurance experts revised sharply downward their estimates of the cost of damage from the blaze, which began on 1 May.
An Irishwoman who was evacuated last Tuesday has said it was the "scariest experience of my life without a doubt".
Speaking on RTÉ's Morning Ireland, Orla Healy, from Newbridge in Co Kildare, said she and her partner packed up some of their belongings and pets but do not know when they will get back.
She said: "When you hit the road and see the flames coming after you, that's pretty scary."
Ms Healy said some Irish people who work in a construction firm in Fort McMurray have been asked to go back to assess damage and to see how long it will be before people can live there again.
She said she and her partner, who are now staying with an Irish family in Edmonton, have been able to check their home remotely through its security system and it is "still standing", but she does not know "what state it's in".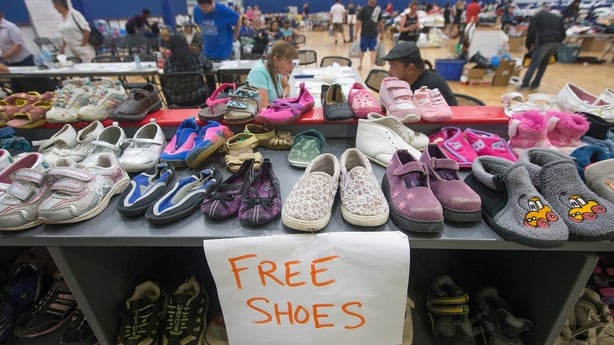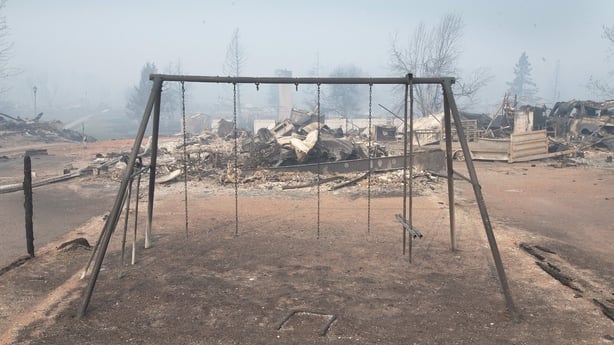 Prime Minister Justin Trudeau vowed a multi-year commitment by the national government to rebuild Fort McMurray after the most destructive Canadian wildfire in recent memory.
"We will support and invest in rebuilding Fort McMurray in abroad range of ways in the coming days, weeks, months and yes, years," he told reporters in Ottawa, but gave no details.
Fire officials said that cooler weather had slowed the fire's spread. But its course remained unpredictable, leading officials to order a midday evacuation of two hamlets south of Fort McMurray, home to a combined population of 530 people, at midday, then lift those orders less than an hour later.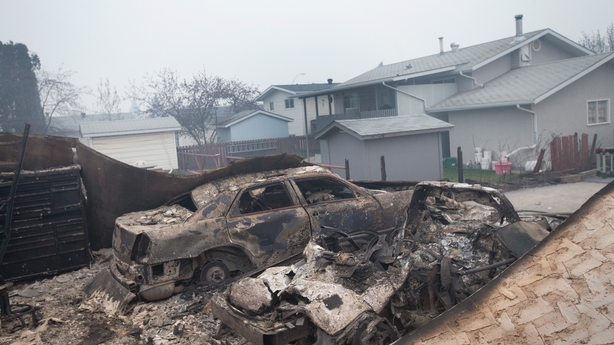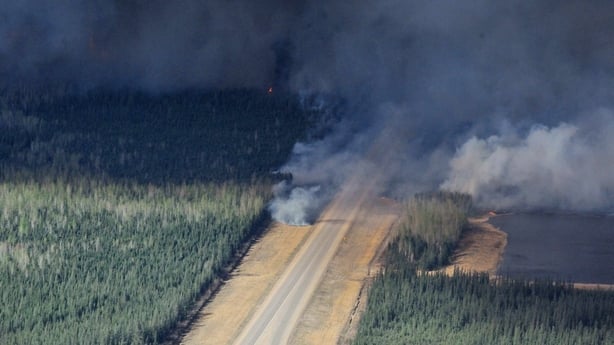 Temperatures cooled on Monday, with a forecast high of 10 degrees Celsius, down from Sunday's high of 17 degrees Celsius.
The cool weather was expected to linger through Thursday, according to Environment Canada. Still, much of the province of Alberta in western Canada is tinder-box dry after a mild winter and warm spring.
"This beast is so big, we need rain to fix it," Public Safety Minister Ralph Goodale told reporters.
Government weather forecasts show the first possibility of rain on Wednesday with a 30% chance.
Officials said it was too early to know when the thousands of evacuees camped in nearby towns could go back to Fort McMurray, even if their homes were intact.
The city's gas has been turned off, its power grid is damaged and the water is undrinkable.
Fort McMurray is the center of Canada's oil sands region. About half of its crude output, or 1 million barrels per day, has been taken offline, according to a Reuters estimate.
Statoil ASA said it will suspend all production at its Leismer oil sands project in northern Alberta until midstream terminals needed to transport crude oil via pipeline reopen.
Its move followed shutdowns of Nexen Energy's Long Lake facility, Suncor Energy's base plant operations, the Syncrude project and Conoco Phillips' Surmont project.
Nearly all of Fort McMurray's residents escaped the fire safely, although two teenagers died in a car crash during the evacuation.