Ceremonies to mark the centenary of the executions of the leaders of the Easter Rising continued this morning in Kilmainham Gaol in Dublin.
On 8 May 1916, Éamonn Ceannt, Michael Mallin, Seán Heuston and Con Colbert were all shot dead in the Stonebreaker's Yard at Kilmainham Gaol for their role in the uprising.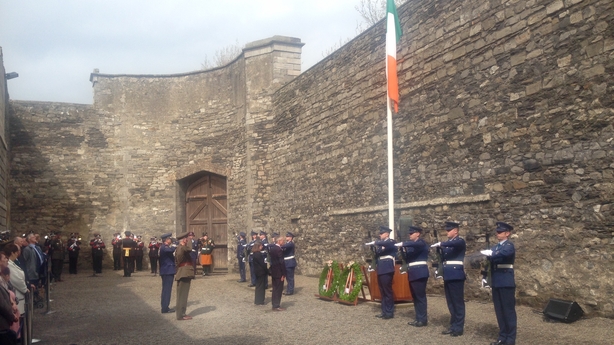 Individual ceremonies to commemorate the executions of the 14 leaders of the Rising began on 3 May and will continue until Thursday at the Stonebreaker's Yard.
At each ceremony trial documents relating to the charge against the accused man are read, as well as the plea that was entered, the verdict of the court and the witness statements provided.

Separately, over 1,500 people, including President Michael D Higgins, attended a 1916 commemoration in Westport.
Westport-native Major John MacBride, a key figure in the 1916 Rising, was central to the event.
He was at Jacob's Biscuit Factory garrison during the uprising, and was executed for his role in the rebellion on 5 May 1916.
President Higgins paid tribute to Major MacBride during the ceremony. He recalled a quote given by ex-South African president Thabo Mbeki saying Major MacBride was a principled figure standing against British imperialism who became an inspiration to Nelson Mandela.
Mr Higgins also paid tribute to 31 volunteers from Westport who were interned for eight months in Frongach prison in north Wales after the Rising.
Meanwhile, Sinn Féin's Mary Lou McDonald said that Fine Gael and Fianna Fáil need to recognise that Ireland does not stop at the border.
Addressing the 100th anniversary commemoration for 1916 leader Seán Mac Diarmada in his home village of Kiltyclogher, Co Leitrim, Ms McDonald said: "The ideals of the proclamation will remain unfulfilled, while our country is still partitioned.
"If we send one message from here today to Fine Gael and Fianna Fáil, it is that Ireland does not end at Newry or at Kiltyclogher. Ireland is all of our 32 counties and the proclamation of 1916 is for all of our people."