Employment levels for Irish graduates are improving but more than one in ten are emigrating shortly after leaving college, according to the latest data from the Higher Education Authority.
Figures show that nine months after graduating, 65% of all students who left college in 2014 had a job - 53% in Ireland and 12% abroad.
They indicate that nine months on, one-in-five newly-qualified second level teachers with honours degrees have left Ireland to teach abroad.
Employment rates for honours bachelor degree graduates have risen significantly in recent years; from 45% in 2009 to 58% in 2014.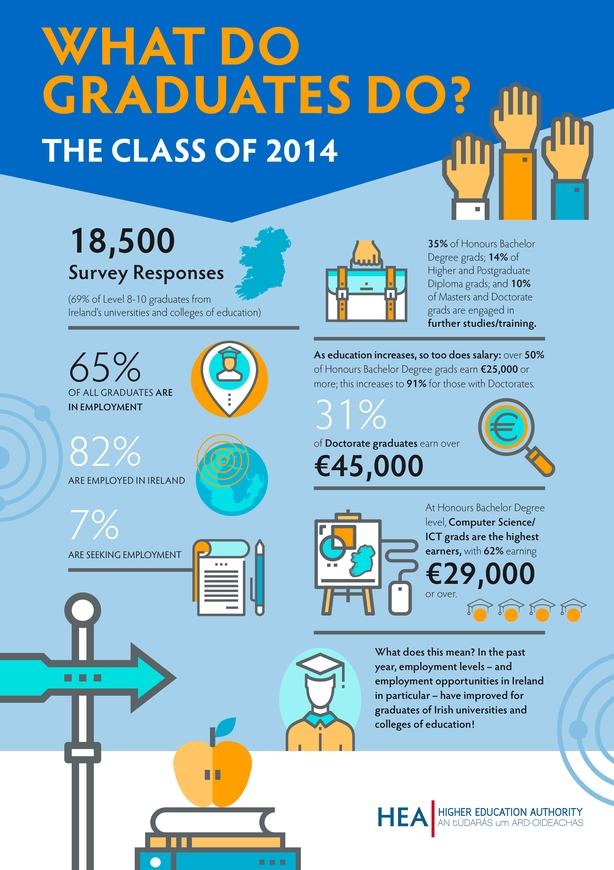 In this category, education graduates have the highest levels of employment, the vast majority though in temporary part-time jobs.
But 9% of honours degree primary teaching graduates are working abroad, as are 21% of their second level equivalents.
Computer science/ICT honours degree graduates are more likely to find employment in Ireland.
Nine months on they are also earning more than other graduates, with 62% earning €29,000 or more.
However, HEA CEO Tom Boland said 12% of ICT and computer graduates are seeking employment.
Speaking on RTÉ's Morning Ireland, Mr Boland said some of "the conversation around the severe shortage of ICT graduates may be overdone" and needs to be looked at.
He added that the report shows the education system is continuing to produce high quality graduates and there is an increasing demand for those graduates at home.
The report indicates that graduate salary levels are improving.
51% of those surveyed said they were earning more than €25,000 a year, compared to 48% the year before.
Arts and humanities graduates are the least well paid.