Fianna Fáil and Fine Gael have hardened their positions on water charges ahead of the resumption of talks on forming a government tomorrow.
In their campaigns for the General Election, Fine Gael and Fianna Fáil offered voters a clear choice on the issue of Irish Water: keep the utility and the charges or replace it and abolish charges for five years as proposed.
Minister for Foreign Affairs Charlie Flanagan said he does not believe they can simply abolish Irish Water and scrap water charges.
Speaking on RTÉ's The Week in Politics, he said: "What about the €110m that has already been collected?
"What about in excess of 60% of the people who have - not only registered but have - paid. I don't believe scrapping charges is in the best interests of our community."
He said it was complex but "I do believe we can move towards a compromise that will result in a settlement of this issue".
If there is going to be a government, he said it will be a government built on compromise.
Fianna Fáil's Timmy Dooley said there is no doubt that the water policy that has been espoused by the outgoing Government was rejected by the Irish people.
He said the policy has been rejected and there is a majority in the Dáil who would scrap water charges and "reorient the way Irish Water operates".
In his view, he said, "if a government is to be formed with the facilitation of Fianna Fáil there will have to be very significant compromise on the water policy that has been espoused by the outgoing government, and that falls to Fine Gael".
Minister for the Environment, Alan Kelly, has said abandoning Irish Water now would be "political, economic and environmental sabotage".
Speaking to RTÉ in New York Mr Kelly said that walking away from Irish Water now would cost billions, saying it would be "the most ridiculous decision".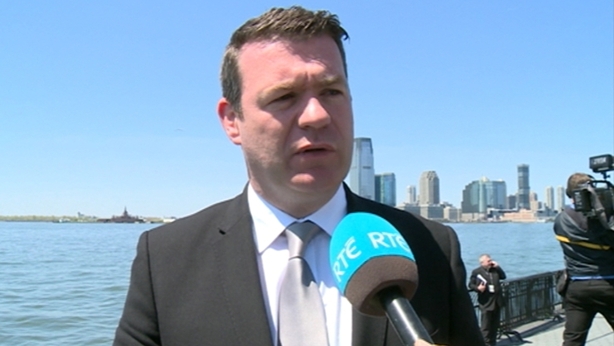 The environment minister was in New York representing the Irish Government at the official US 1916 Commemoration ceremony in Battery Park.
Asked if there could possibly be a role for the Labour party in any government combination, he said it was up to the three parties - Fine Gael, Fianna Fáil and Sinn Féin - which had all received bigger mandates than his party to form a Government.
He said the Labour party always "stepped up to the plate" and that it had done so five years ago.
Engagement ongoing over the weekend ahead of fresh govt talks
Reconciling opposing positions on water charges has proven impossible in talks between the parties to date on the formation of a Fine Gael led minority government.
There have been a number of face to face and telephone contacts between the Enda Kenny and Micheál Martin over the weekend to try and keep the negotiation process on track.
Fianna Fáil said engagement continued today, however no venue or time for negotiators to meet tomorrow has been announced yet.
Meanwhile, Sinn Féin President Gerry Adams today opened the door to Sinn Féin holding talks with both parties about entering government.
Also speaking on The Week in Politics, Mr Adams said Sinn Féin's door is open to everyone.