Taoiseach and leader of Fine Gael Enda Kenny and Fianna Fáil leader Micheál Martin have spoken by telephone and have agreed to talk again tomorrow.
Contact between the two party leaders' took place after their respective negotiating teams adjourned talks when they were unable to resolve several issues, especially the future of water charges.
If the two leaders' can agree a way forward then they will mandate their negotiators to resume talks.
However, the gap between the two sides is fundamental and it is not clear how it can be resolved. 
Fine Gael want some form of water charges to remain in place but Fianna Fáil want a suspension of water charges.
Today's talks concluded shortly before 6pm, speaking afterwards Fianna Fáil's Jim O'Callaghan said a number of fundamental issues of difference remain.
Deputy O'Callaghan said, "there are fundamental issues we cannot resolve concerning a number of issues including housing, children and water".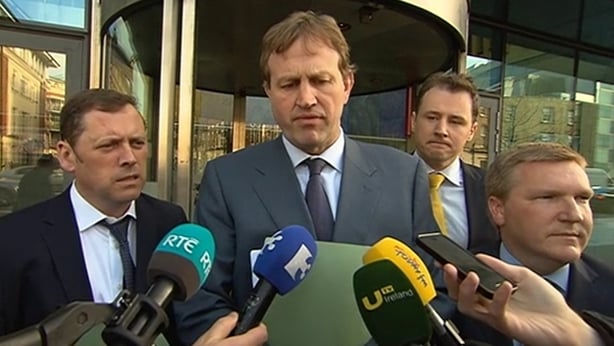 Fine Gael Minister Paschal Donohoe said they made progress on a range of matters but they will refer outstanding issues to their party leaders. 
He said these issues are difficult for both parties which is why they believe it is appropriate to go to their leaders. 
He also said Fine Gael has to recognise the mandate they got from their voters. 
Fianna Fáil TD Thomas Byrne said the talks are at considerable road blocks, including the issue of Irish Water. 
Speaking on RTÉ's Six One news the Meath East TD said that if Fine Gael want to be in the driving seat, Fianna Fáil would like to see some movement on Irish Water.
Deputy Byrne said party leaders are to discuss the matter and will give further instruction to negotiating teams.
On the same programme, the Social Democrat TD for Kildare North, Catherine Murphy said that there should not be a "side negotiation" on Irish Water.
She said the motion seeking the abolition of water charges will be tabled in the Dáil, adding that there should be a recognition that the majority of TD's were elected to abolish Irish Water.
Speaking earlier today Minister for Health, Leo Varadkar, said "difficult compromises" are required on topics such as water charges.
Mr Varadkar said the talks were going well and a lot of progress had been made.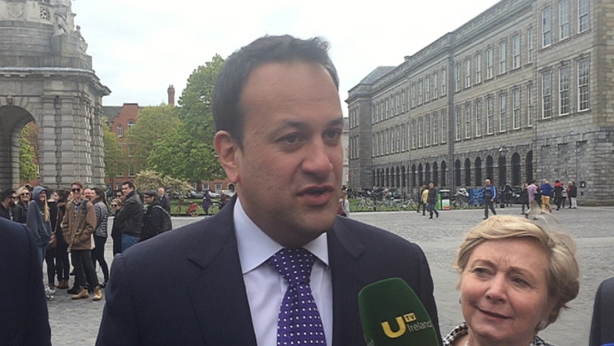 "We'll be talking about a number of issues today. Obviously water, but also other key issues that people are concerned about," he told reporters as he arrived at the talks.
"It is requiring some difficult compromises on both sides."
He also said he was cautiously optimistic that an agreement could be reached by the weekend or over the weekend. 
A meeting between the parties concluded yesterday evening with Fianna Fáil citing many outstanding policy issues, including education, childcare, health, and housing.
Further briefings from the various departments were expected to be discussed today in these areas.
It is understood Fianna Fáil has pushed for greater housing supports.
Fine Gael ministers were more upbeat last night, saying progress had been made.
Minister for Agriculture Simon Coveney indicated that he hoped the talks could be wrapped up by tomorrow.
However, there is little doubt that water remains the most difficult issue, and one which was not discussed yesterday.
Mr Coveney said the parties were getting technical advice from experts on the proposals. 
Both parties will be very mindful that they will have to bring any proposals back to their parliamentary parties for agreement.
Talks have recommenced in Trinity Biomedical Sciences Inst...no updates from politicians as they arrived #rtenews pic.twitter.com/zU3v3IfKsm

— Joe Mag Raollaigh (@joemagraollaigh) April 22, 2016
Independent Alliance TD Michael Fitzmaurice, meanwhile, has said independent TDs will need to see and examine any agreement that emerges from the talks before committing support.
Speaking on RTÉ's Morning Ireland, the TD for Roscommon-Galway said in the event of a suitable agreement being drawn up, the Independent Alliance would stand by motions of confidence and support budgetary decisions.
John Halligan, also a member of the Independent Alliance, has said he will not support a minority government unless a plan to address issues at University Hospital Waterford is addressed.
Speaking on RTÉ's News at One, Mr Halligan said if the Independents are to support a government they should be made aware of what is being discussed between Fine Gael and Fianna Fáil.
Mr Halligan said they will reserve the right to suggest changes to any document tabled by the two parties. 
Dempsey highlights other issues facing government
Former Fianna Fáil politician Noel Dempsey has said there are much more important matters the two parties could be focusing on rather than Irish Water.
Speaking on RTÉ's News at One, Mr Dempsey said both parties will "lose face" on the issue, adding that homelessness and health issues are much more important.
He said it would not be the game plan of Fianna Fáil to bring down a minority government in two years time.
Mr Dempsey also said the most important thing is working out the practicalities of how a minority government would work.
Right2Water group call for end to water charges
The Right2Water group has called on Fianna Fáil to stand by what it put in its election manifesto and abolish water charges.
Speaking at Leinster House this morning, Brian Stanley of Sinn Féin, Richard Boyd Barrett of the AAA/PBP, Catherine Murphy of the Social Democrats and Independent TD Joan Collins said Fianna Fáil had the opportunity to honour the commitment it gave to the electorate. 
Mr Boyd Barrett said Fianna Fáil and Fine Gael needed to "disentangle water charges from the talks", because the Dáil had a clear mandate in relation to them. 
He said if Fianna Fáil sticks to it's commitment, then water charges are gone, adding that anyone who rowed back on that commitment would "rue the day". 
Meanwhile, a lecturer in economics at University College Cork has said politics is clouding the decision-making in relation to Irish Water.
Speaking on Morning Ireland, Seamus Coffey said changes will have to be made to how the system operates.
He said domestic charges were only ever going to cover around a quarter of the cost of the system and that the state would have to provide €500m annually.
Mr Coffey added that an issue with having Irish Water under government control is that it will have to "fight with all other areas of government spending for funding".