Fine Gael has made a formal offer to form a partnership government with Fianna Fáil and Independent TDs.
Party leader Enda Kenny made the offer at a meeting with his Fianna Fáil counterpart Micheál Martin, according to a Fine Gael statement.
The statement says the proposal has the "potential to provide a stable and lasting government".
A Fianna Fáil party spokesperson has confirmed that the offer of a "full partnership government" has been made.
Talks between the two party leaders began after the Dáil earlier failed to elect a taoiseach for the second time since February's General Election.
Fine Gael described the meeting as "positive and constructive".
Taoiseach has formally offered Michael Martin a full partnership Govt with Independent TDs - a historic change and good for Ireland

— Simon Coveney (@simoncoveney) April 6, 2016
However, the early Fianna Fáil reaction to the offer has been negative.
Thomas Byrne, TD for Meath East, tweeted that the issuing of the statement was "so infuriating".
Speaking on RTÉ's Late Debate, his party colleague Lisa Chambers said Mr Kenny was just not one man and did not represent the whole Dail or Fianna Fáil and other options remain.
Ms Chambers said she looked forward to being briefed by Mr Martin at a meeting of the Fianna Fáil parliamentary party tomorrow.
Mr Kenny and Mr Martin are to meet again tomorrow.
This evening's meeting was the first time the two leaders met to discuss the options for government since the 26 February election.
Earlier, the meeting was described as initial and preliminary, with just a note taker present.
Nominations for taoiseach comprehensively defeated
Earlier the nominations of Mr Kenny, Mr Martin and Ruth Coppinger for taoiseach were comprehensively defeated.
Mr Kenny's nomination was defeated by 81 votes to 51, Mr Martin by 95 to 43 and Ms Coppinger had 108 votes against with ten in favour.
Following the votes, Mr Kenny invited Mr Martin to meet this evening to discuss options for government and those discussions began before 9pm at Leinster House.
Mr Kenny pledged to be flexible and generous in negotiations, adding that he hoped the discussions would "lead us to a conclusion".
Mr Kenny said he and his government would continue to carry out their duties in the meantime.
In response, Ms Coppinger said that people voted for change during the election and she did not welcome a Fianna Fáil/Fine Gael coalition.
She said that Independents who have been talking to the two parties are not really independent because they have been willing to horse-trade.
She warned the two largest parties: "If you think you can continue to rule in the old way, you can forget it".
The Dáil has adjourned until Thursday 14 April.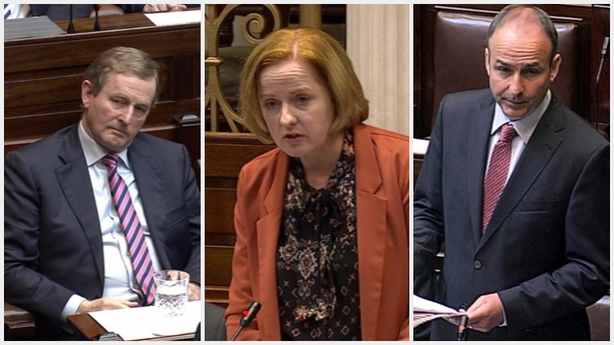 Nominating Mr Kenny, Fine Gael TD Noel Rock outlined that his party has engaged in over 50 hours of negotiations since he last nominated Mr Kenny on 10 March.
Mr Rock said: "The resilience and determination of the taoiseach in attempting to bring together a new partnership government has been admirable."
He added that a process of real substance has brought about a document of real substance arising from the discussions between Fine Gael and Independent TDs.
Ms Chambers, who was recently elected, nominated Mr Martin for taoiseach saying his political CV stood for itself.
She said he had consistently opposed policies that hit the vulnerable.
Ms Chambers said people have voted for change, and deputies in the chamber had to do the same by voting for Mr Martin.
Nominating Ms Coppinger for taoiseach, Richard Boyd Barrett said 40 days and 40 nights had passed since the General Election.
He called the intervening period a "farce".
Deputy Boyd Barrett said that while Jesus Christ wandered in the wilderness for 40 days and nights contemplating the sins of humanity and maybe saving it, Fianna Fáil and Fine Gael had left the country in a political wilderness in the pursuit of the "drug of power".
Adams criticised Dáil bar
Dáil bar: @sinnfeinireland leader @GerryAdamsSF critical of Dáil bar...again @rtenews pic.twitter.com/xkpuWsakOF

— Conor McMorrow (@ConorMcMorrow) April 6, 2016
Sinn Féin leader Gerry Adams has said it is absolutely bizarre that members of the Oireachtas have access to not one but two bars.
Speaking during a discussion on Oireachtas reform, Mr Adams said he had met citizens and members of the Oireachtas intoxicated in the corridors quite a few times, even since they had met in this Dáil session.
Mr Adams said he was as fond of a drink as anyone, but that it was absolutely bizarre to have a bar in a workplace, contrary to all modern practice.
He said the fact its opening hours were based on parliamentary privilege was equally bizarre.
During the reform discussions, the issue of the prayer prior to each sitting was also raised by a number of TDs.