Fine Gael has circulated a document to 15 independents which runs to 122 pages and covers 16 areas.
The release of the document comes ahead of a vote in the Dáil for Taoiseach which is due to take place tomorrow.
It is understood Taoiseach Enda Kenny will be seeking to meet with Fianna Fáil leader Micheal Martin after the vote takes place.
It is also believed that Mr Kenny has had discussions with Labour leader Joan Burton in the hope of getting her party's backing on forming a government.
However, one source from the Labour party told RTÉ's Prime Time that the issue will be discussed at a parliamentary party meeting tomorrow. It is believed to be unlikely that the party will change its mind and remain in opposition in the next Dáil.
The areas in the document include ending the housing shortage and homelessness; creating a social economy; jobs and rural development; health; mental health; improving the lives of people with disabilities; education; crime in agriculture; climate change as well as political and constitutional reform.
The document, seen by RTÉ News, states that the result of the General Election is not a recipe for paralysis or an opportunity for short-term political gain.
Among the measures included is the appointment of a cabinet minister for housing, as well as a minister and a department for rural affairs.
Fine Gael pledges to draft a new housing plan within the first 100 days of government.
It also proposes a new model of affordable housing by working with housing associations and local authorities to develop rental options for lower income families.
It proposes that NAMA review its plan to see if can be more ambitious in terms of the delivery of 20,000 housing units by 2020.
It also suggest reducing VAT rate from 13.5 to 9% on new and affordable houses and apartments and plans to establish a national register of derelict sites, as well as a root branch review of the planning system.
It proposes to get the policing authority to review the location of rural and urban garda stations.
The document says there will be at least an additional €6.75bn for delivering public services by 2021 compared with 2016.
It will be used to address the costs of an ageing and growing population, sustainable increases in public sector pay, targeted improvements in public services with a focus on health, education, disability and child development.
It will also be used for improvements in welfare payments including for the elderly, the disabled, the sick and carers.
It also proposes to recruit additional front line public servants.
On rural affairs it also proposes an Atlantic economic corridor to develop jobs and infrastructure in the west of Ireland.
It also focuses on town and village renewal. The document also proposes the development of new community banking with An Post and credit unions.
In relation to health, Fine Gael's document promises €50m a year to be set aside to reduce waiting lists.
There is a funding commitment for 80 additional primary care centres as well as a pledge to review hospital bed capacity.
It wants to continue to dismantle the HSE which, it says, will be mandated to employ GPs on a salaried basis where needed.
The Fine Gael document also proposes increases in the disability benefit and allowance, carers benefit and allowance and blind person's pension.
There is also a proposal to extend the entitlement to a medical card for all children in receipt of the domiciliary care allowance.
In relation to older people, it proposes increasing the State pension and living alone allowance.
On judicial appointments, the document proposes to introduce legislation to reform the judicial appointments advisory board.
It also pledges to formally remove the government's discretion to appoint from outside the list of the judicial appointments advisory board.
It proposes an independent electoral commission be set up as a matter of priority.
On reform of the Seanad, it proposes the Manning report be implemented as a priority.
It also proposes a citizen assembly to make recommendations on the eighth amendment, on fixed term parliaments and how referendums are held, that is, having a super referendum day.
Ross: talks with FF, FG are 'moving in the right direction'
Meanwhile, Shane Ross of the Independent Alliance has said things are moving in the right direction in their discussions with Fianna Fáil and Fine Gael, but they were nowhere near a deal yet.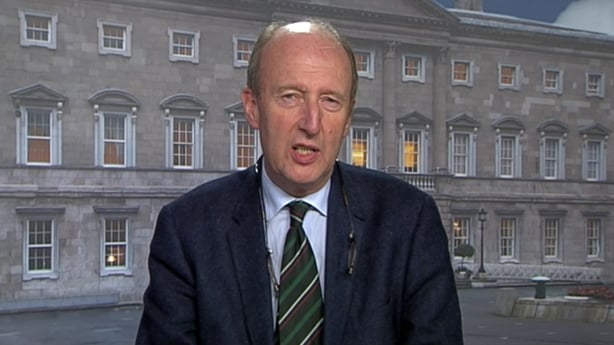 Speaking on RTÉ's Six One News, Mr Ross said that Independent Alliance deputies had spent most of the day in discussions with Fianna Fáil who, he said, are showing a willingness to see an agenda for change.
Earlier, Fianna Fáil TD Timmy Dooley said the party intends to honour its election promise to suspend water charges for the life of the next government and to abolish Irish Water.
Speaking on RTÉ's News at One, Mr Dooley said he was of the view that many Independents contested the election on a platform of change and he was encouraging them to support Fianna Fáil in this.
He added that Fianna Fáil will be tabling a bill on the issue.
Mr Dooley said there was a lot of distance between Fine Gael and the party on a lot of issues and that Fine Gael needs to come to the realisation that it lost a significant amount of seats and no longer enjoys the majority it did in the last Dáil.
People who have not paid their water charges to date will still owe them, he said.
Mr Dooley said he expected that should Fianna Fáil's plans be implemented, it would result in redundancies because some of the current Irish Water workers would be surplus to requirements.
He added that he expected some of them will be redeployed back to local authorities and that a redundancy plan would be introduced.