All dogs in Ireland must be microchipped and registered under new regulations which come into force on Friday, 1 April.
The requirement is that every dog in the State must be microchipped and that chip must be registered on a recognised database.
It will be illegal to pass a dog to another person, even if there is no payment, without the dog being microchipped.
The new owner's details must also be registered to allow for a certificate to be issued.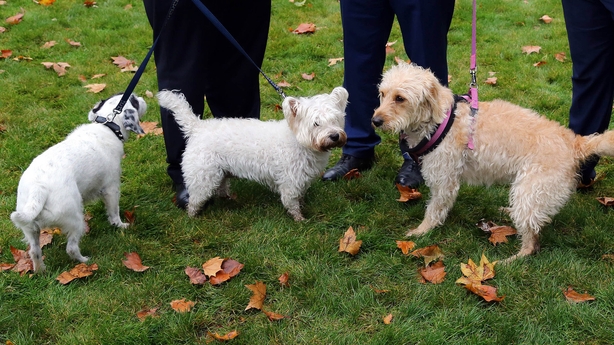 The new rules are aimed at helping to reunite people with their lost or stolen pets, but also to tackle strays roaming the streets or countryside.
There are four authorised databases by which dogs can be registered: Animark, Fido, the Irish Coursing Club and the Irish Kennel Club.
Chief Executive of the Dublin Society for Prevention of Cruelty to Animals Brian Gillen said it estimates there are 750,000-800,000 dogs in Ireland but "roughly half of those are not on databases right now".
He said, however, of those dogs that are registered, the information is often incorrect, with dogs still registered "to the breeder in many cases".
Speaking on RTÉ's Morning Ireland, he said "the penalty is you can be brought to court, you can be fined up to €5,000.
"But we're seeing this as a positive thing. We're encouraging people to do it."
He said "across the board" the process costs €15-20.
New rules, introduced last June, meant all puppies must be microchipped before reaching 12 weeks.
Minister for Agriculture, Food and the Marine, Simon Coveney said: "Widespread microchipping of all dogs brings a range of benefits including the protection of the welfare of dogs and assist with speedy identification of stray dogs and their owners.
"It will act as a deterrent for those who abandon dogs and assist in identifying marauding dogs and those that pose a threat to livestock or people."