Good Friday ceremonies took place across the world today. In many places, Christians have been reaching across denominational divides to recall the day when they believe Jesus Christ was crucified outside Jerusalem.
In North Connemara, Co Galway, over 300 pilgrims braved strong winds to climb Mam Éan in the Ma'am Turk mountains for a Good Friday commemoration.
The conditions forced organisers to move the Stations of the Cross devotions to a semi-enclosed oratory.
In Dublin's Phoenix Park, pilgrims heard Archbishop Diarmuid Martin tell their Way of the Cross gathering that "Violence is never the answer".
The Archbishop said it continues to be a problem but that we have to stand up as a community and tell all men of violence to desist.
Tonight, Protestant and Catholic Archbishops prayed together at the Church of Ireland's Christ Church Cathedral before leading an Ecumenical Walk of Witness northwards.
They paused at the GPO for a minute's silent prayer for all who died during the Easter Rising. Their destination was St Mary's Pro-Cathedral where they held a service of meditative chants.
In Rome's Colosseum, Pope Francis lead a two-hour Stations of the Cross. It was his first major outdoor Holy Week service since the Brussels attacks prompted heightened security in both the Vatican and Rome.
Meanwhile, Catholic devotees in the northern Philippines were nailed to wooden crosses today in a re-enactment of the crucifixion of Jesus Christ.
Hundreds of spectators witnessed the bloody rites on the outskirts of Cutud village, about 80 kms north of Manila, which originally started as a small stage play in the 1960s.
Devotees were attached to wooden crosses by two-inch nails soaked in alcohol hammered through their hands and feet, while ropes and fabric supported their weight as they were hoisted up during the ceremony.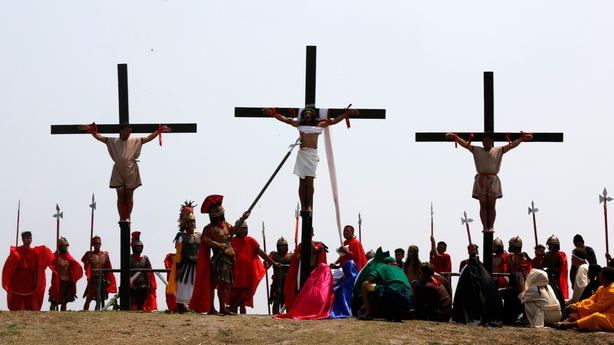 Penitents then recited short prayers in the heat before being brought down and taken to a clinic for treatment.
The rite has become a popular tourist event in recent years despite its graphic nature.
Every year during the Lenten season, devotees in the Philippines practice their penance with long-standing traditions such as crucifixion, flagellation, fasting and pilgrimages to churches.
The Catholic Church has expressed disapproval of such actions, deeming them misinterpretations of faith, saying prayers and sincere repentance are enough to commemorate the observance of Lent.