Acting Taoiseach Enda Kenny has told Independents and the Green Party that he is not averse to speaking to Micheál Martin.
Talks are due to resume between Fine Gael, Independents and the Green Party on Tuesday after no agreement was reached today. 
Further talks will take place on Wednesday and Thursday.
A paper on housing will be discussed on Tuesday, as will the issue of rural development. 
At today's eight-hour meeting a document which outlined eight areas of discussion was presented - 88 specific items were listened within the eight topics.
Housing was discussed and brief from the Department of the Environment was also heard. 
The items for discussion under housing included the role of NAMA, local property tax, long-term emergency accommodation, social housing investment, low income households in rental accommodation, affordable purchase student accommodation and spatial planning.
The other main areas for discussion included jobs and rural development, management of the economy, public finances and the labour market, health and disability, politics and constitutional reform, climate change and the environment and crime prevention and justice.
Within those broad areas, specific items included local banking services, town and village renewal, tourism, agri-food and fishing industry. On the economy and finance side issues included new tax broadening measures, management of the state's shareholding in the banks, tax spending split , personal tax rates and the future of the USC, and the minimum wage.
Health issues include funding, emergency departments, primary care ambulance services, rural practices and disability services.
Under crime, the issues in the document included garda recruitment, community policy, the bail laws, gangland crime and garda oversight .
Under climate change the document outlines areas for discussion including electric vehicles take-up, the future of Moneypoint Power Station, water and waste management.
Green Party leader Eamon Ryan said the talks were constructive but nothing was agreed. 
In a statement this evening, Independent TD Denis Naughten welcomed the discussons but also said that it was made crystal clear at the meeting that no agreement can be achieved without the cooperation of Fianna Fáil, Labour and the Social Democrats and that engagement must now take place with the three parties.
.@EamonRyan says its not clear how long govt formation will take and it can't be rushed #rtenews #rte pic.twitter.com/qx34ycMSE2

— Martina Fitzgerald (@MartinaFitzg) March 24, 2016
Earlier, acting Minister for Agriculture Simon Coveney said his party would first have to deal with those who were interested in forming a government and then would have to talk to other parties who were not interested in being part of a government. 
17 deputies agreed to take part in the discussions but no one has yet committed to voting for a particular party or candidate for Taoiseach when the Dáil meets on 6 April.
Those who attended include members of the Independent Alliance made up of Shane Ross, John Halligan, Michael Fitzmaurice, Finian McGrath, Kevin 'Boxer' Moran and Sean Canney.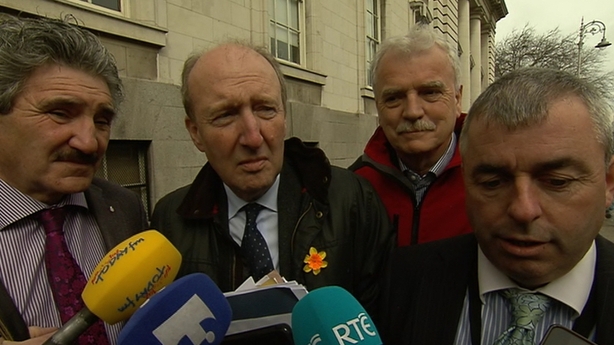 Another group of five Independents - Denis Naughten, Mattie McGrath, Noel Grealish, Michael Harty and Michael Collins - has already said it wants to intensify its efforts with Fine Gael.
Independents Maureen O'Sullivan, Katherine Zappone and Michael and Danny Healy Rae also attended along with the two Green Party TDs, Eamon Ryan and Catherine Martin.
Mr Ryan said the process of putting a government together could not be rushed as it would have to last.
Michael Healy-Rae said Fine Gael and Fianna Fáil need to sit down together and talk in order for a resolution to be found.
Fianna Fáil, however, is continuing in its own efforts to form a government and met a group of Independents last night.
Speaking on RTÉ's Morning Ireland, Mr Ross said despite the best efforts of Fine Gael engaging with Independents and smaller parties, there cannot be much progress today in terms of forming a government as the numbers do not stack up.
Mr Ross said there was no use having talks without the inclusion of Fianna Fáil. 
"I think both Fine Gael and Fianna Fáil should have picked up the phone to each other a long time ago," he said.
Mr Ross said the Alliance will not be "sucked" into anything and will meet Fianna Fáil again following today's session.
Group of independents arriving at govt buildings #rtenews #rte pic.twitter.com/XEasNB5jsN

— Martina Fitzgerald (@MartinaFitzg) March 24, 2016
Ms Zappone said talks on the formation of a government need to be intensified and sped up.
She said there is a real urgency now and that decisions need to be made in regards to a budget that is due in six months' time.
"There's a lot of talk now about reforming the budgetary process so that more parliamentarians are involved in that process, that there's more openness to it.
"I think that's really integral, it should be a critical aspect to our discussions and I think we need to agree that kind of Dáil reform prior to voting for Taoiseach.
"We need to have more transparency on how we do our budgets."
Fianna Fáil TD for Clare Timmy Dooley said it is still the aim of Fianna Fáil to be in government but that negotiations on the matter will take some time.
Speaking on RTÉ's News at One, Mr Dooley said smaller parties, groupings and Independents have yet to decide who they want to go into government with.
Mr Dooley said the parliamentary party has not discussed supporting a minority Fine Gael government, stressing that it was the party's job to support Mr Martin for the position of Taoiseach.