US Republican presidential candidate Ted Cruz showed some fight after his win in Utah despite front-runner Donald Trump's victory in Arizona, giving hope to establishment Republicans who fear Mr Trump will ruin the party in the race for the White House.             
Mr Cruz, the US senator from Texas, also picked up an endorsement from former candidate Jeb Bush, which Mr Cruz said bolstered his case that he is the party's best chance for winning the 8 November presidential election.             
"What we're seeing all across the country is the momentum is with us," Mr Cruz said in an interview on CNN.
"You want to talk about a broad coalition, ideologically diverse - that covers the entire spectrum of the Republican Party."             
Mr Trump easily defeated Mr Cruz and Ohio Governor John Kasich in Arizona with a hard-line anti-immigration message and tough talk on Islamic militants.             
On the Democratic side, front-runner Hillary Clinton routed challenger Bernie Sanders in Arizona to stretch her advantage in the race for her party's presidential nomination.
But Mr Sanders' wins in Utah and Idaho bolstered his case that he still has a chance despite Mrs Clinton's big lead.             
Yesterday's nominating contests were overshadowed by attacks in Brussels in which at least 31 people were killed and raised security concerns among US voters.
Mrs Clinton seized on the attacks to argue neither Mr Trump nor Mr Cruz can be trusted to lead the fight against so-called Islamic State militants.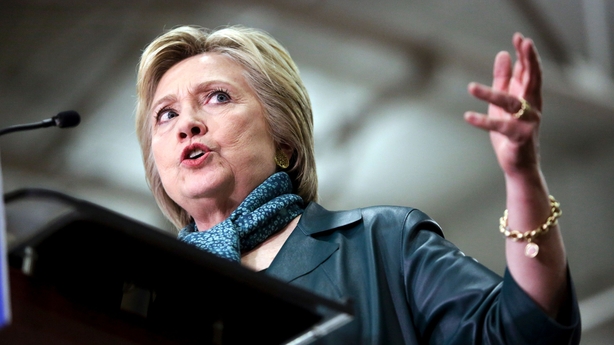 Mr Trump has called for a temporary ban on Muslims entering the United States and Mr Cruz said he would send police patrols into Muslim neighbourhoods in the US.
"This is a time for America to lead, not cower," Mrs Clinton told supporters in Seattle in a victory speech.
Mr Trump's immigration stance appeared to cement his win in Arizona, where he had the backing of Maricopa County Sheriff Joe Arpaio, one of the most prominent supporters of a crackdown on illegal immigrants.
The win gave Mr Trump all of Arizona's 58 delegates, furthering his argument that he will eventually win the Republican presidential nomination and that the party should rally around him.
"Much bigger win than anticipated in Arizona. Thank you, I will never forget!" he said on Twitter.
"Hopefully the Republican Party can come together and have a big WIN in November, paving the way for many great Supreme Court Justices!"
The Cruz win in Utah's caucuses gave hope to Republicans who fear Trump's proposal to deport 11 million illegal immigrants and build a wall on the US border with Mexico would guarantee Democrats keep the White House.
Mr Trump is trying to beat back efforts to deny him the nomination. He now has 678 delegates and opponents want to stop him from securing the 1,237 delegates needed ahead of the July convention.
"I think it is going to be very hard for them to do," Mr Trump said on CNN of any effort to deny him the nomination if he falls short. "I have millions of votes more than anybody."