Security forces here are closely monitoring a small number of people in the wake of the terror attacks in Brussels.
The Government said there is no specific information of any threat to the country from international terrorism but a similar indiscriminate atrocity is possible, although not likely.
No Irish people were caught up in the bombs at Zaventem airport in the Belgian capital or on the city's Metro line near the European Union headquarters.
The Dáil held a minute's silence in memory of the victims as the death toll rose to at least 30 with more than 200 injured.
The Government said security chiefs were continuing to closely monitor a number of people based in Ireland "whose behaviour may be of concern".
Stressing that there is no intelligence of an immediate or specific threat to Ireland from international terrorism, officials said: "We cannot consider that we are immune from the threat.
"It remains the case that an attack here is assessed as possible but not likely.
"The level of threat is kept under constant review by An Garda Síochána and all appropriate measures will continue to be taken by the authorities here.
"For obvious security reasons, we could not go into the details of the operational responses.
"All the agencies here co-operate closely in respect of any threats that are identified."
The Government said the Garda is co-operating very closely with its EU and other international security and intelligence counterparts in responding to terror threats.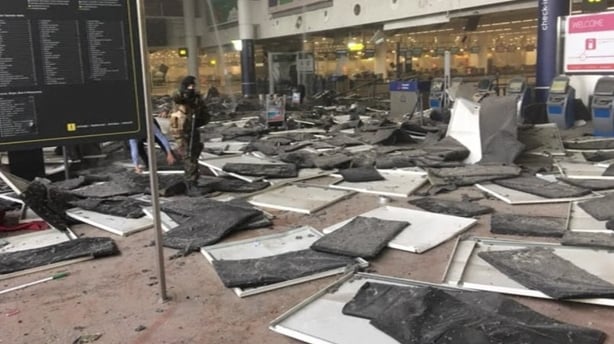 "The deplorable attacks in Brussels today have highlighted starkly once again the threat from international terrorism," it said.
"There can never be any justification for such brutality.
"Acts of violence like these are an attack on the democratic way of life that we in Ireland hold dear and the values that we share with our EU partners."
Justice Minister Frances Fitzgerald said: "We have to bear in mind too that an attack on our European neighbours is an attack on us all."
Ms Fitzgerald said the Brussels bombings are another "dreadful reminder of the savagery of terrorists who hold our values and democracy itself in deadly contempt".
She added: "We know from the dark history of this island that while, despite the best efforts of police and security services, terrorists can succeed from time to time in carrying out attacks, ultimately democracy and our values will prevail."