Labour TD Willie Penrose has said that members of the Parliamentary Labour Party today agreed that the party would not be involved in the formation of the next government.
He said the party would not be a member of the next government.
Mr Penrose said: "When it comes to voting for a taoiseach, we will listen to what the various candidates have to say in terms of the package they put to the Dáil; the stability of any arrangement being put forward; and the programme for government proposed.
"On that basis, we will determine whether we should vote for the candidate, vote against, or abstain."
Meanwhile, Fianna Fáil leader Micheál Martin met Labour leader Joan Burton for around an hour this evening. 
The meeting was described as very cordial, and they had a wide-ranging conversation.
No commitments are understood to have been sought.
Mr Martin earlier told his parliamentary party that there is no easy solution in terms of government formation and appealed for patience.
Group plans more talks with FG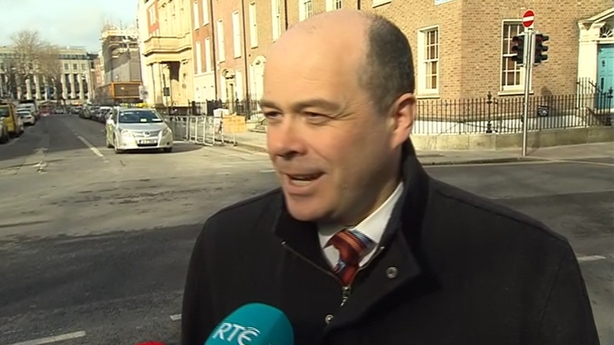 Elsewhere, a group of five independent TDs, led by Denis Naughten, has decided to intensify its discussions with Fine Gael.
In a statement, the group said that following discussions over the past 12 days with Fianna Fáil and Fine Gael, they believed that Fine Gael was seriously determined to form a government.
The group said that as Fine Gael is in the driving seat, with eight extra Dáil votes, the group is now prepared to actively engage on a Programme for Government.
Mr Naughten tonight said he and deputies Michael Collins, Noel Grealish, Michael Harty, Mattie McGrath would meet Acting Taoiseach Enda Kenny and the Fine Gael negotiating team at 10am tomorrow.
He said: "It is our intention to ensure that any agreement will be as inclusive as possible with a view to producing a  'Political Partnership Agreement' which will be a partnership agreement across all constructive TDs."