The remains of the five people who died in a drowning tragedy in Co Donegal have arrived in Derry ahead of the funerals on Thursday.
Sean McGrotty, 49, his sons Mark, 12, and Evan, 8, his mother-in-law Ruth Daniels, 59, and her daughter, Jodie Lee, 14, died when their car slid off the slipway on Buncrana pier into Lough Swilly on Sunday.
Mr McGrotty's four-month-old baby daughter Rionaghac-Ann, who was rescued, is said to be in a stable condition in Letterkenny University Hospital.
Local parish priest Fr Paddy O'Kane said he has spoken to Louise James, who lost her two sons, partner, mother and sister.
Speaking to RTÉ's Morning Ireland, Fr O'Kane, from the Holy Family Church in Derry, said Ms James told him she was "destroyed" and "lost" and that the one ray of hope was the survival of her baby daughter.
In a statement yesterday the Daniels and McGrotty families said they have been devastated by the tragic events.
Remains of Buncrana victims arrive in Derry https://t.co/Gda1W4FOpjhttps://t.co/6ZG28dkQNh

— RTÉ News (@rtenews) March 22, 2016
The families said they have been inundated with support both from the local community and further afield which is "deeply appreciated".
They also appealed to the media to respect their wish for privacy.
A funeral service for those who died will take place at the Holy Family parish church in Ballymagroarty in Derry at 2pm on Thursday.
A Book of Condolences has opened in Derry, while a minute's silence was held for the victims in the Dáil this morning.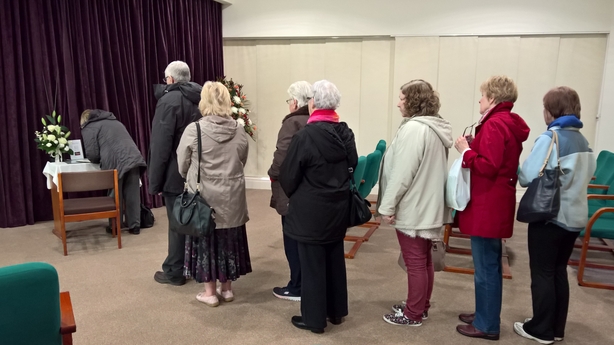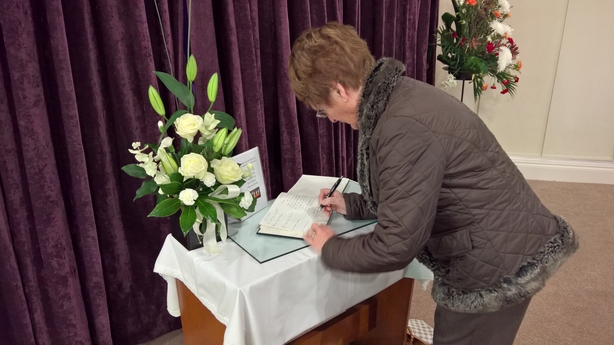 Taoiseach Enda Kenny said the scale of the horror put everything else into perspective.
"Our hearts go out to them and what is a devastating impact on the lives of the extended family," he said.
"We all know in our own lives the numbing grief that comes with the loss of a loved one.
"In these circumstances, however, this is a particular and deepest grief, that the tranquillity and beauty of a sunny spring Sunday was shattered by this tragedy."
Taoiseach Enda Kenny paid tribute in the Dáil to victims of Sunday's tragedy in Buncrana and the attacks in Brusselshttps://t.co/socpHJtHWM

— RTÉ News (@rtenews) March 22, 2016
Mr Kenny also praised the courage of Davitt Walsh, the onlooker who swam out to the sinking vehicle to save the four-month-old baby girl.
Fianna Fáil leader Michaél Martin and Sinn Féin's Gerry Adams also added their condolences in the Dáil.
Sean McGrotty's brother, Frank, spoke last night of the family's devastation at the loss of five family members, coming eight months after the death of his sister.
He said: "This has devastated the whole family we are totally in shock and dismay. I don't know how we're going to come back from this one."
Frank McGrotty said his brother doted on his two sons and his new baby daughter.
He added that he did not know how Sean's partner, Louise, will manage to get on with her life and pick up the pieces.
The whole family, just wiped out. Just have to take one day at a time. It's hard to say this but, just put our faith in God."