Demonstrators shut down an Arizona highway leading to a campaign rally for Donald Trump while protesters rallied outside of Trump Tower in Manhattan to voice their opposition to the front-runner for the US Republican presidential nomination.
Television news footage of the demonstration outside Phoenix showed dozens of protesters blocking traffic while holding signs that read "Dump Trump" and "Shut Down Trump".
The demonstrators eventually started marching down the highway, and later some were seen nearing the rally at Fountain Hills, Arizona, before Mr Trump arrived.
Three people were arrested, the Maricopa County Sheriff's office said.
Saturday's protests reflect rising tensions around the polarising candidate, who has come under fire from rivals for fuelling unrest with his campaign rhetoric.
He has denied responsibility, but this week warned of riots if he is denied the party presidential nomination.
In his home city of New York, about 1,000 demonstrators marched from Central Park to Trump Tower, the billionaire developer's signature building on Manhattan's tony Fifth Avenue.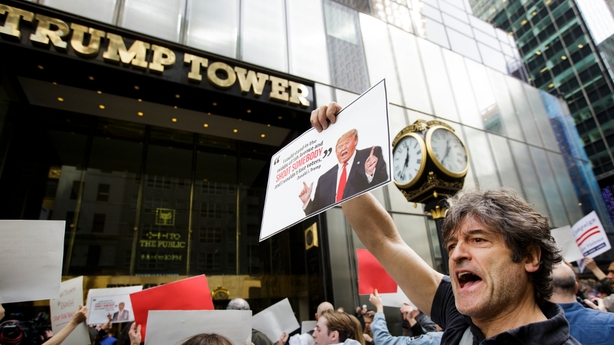 The crowd of mostly young people chanted and carried placards denouncing the Republican presidential hopeful.
Some of them said police used pepper spray on them as they left the park and started marching.
Police were seen taking at least one person into custody, but a spokesman for the New York Police Department could not immediately confirm whether any arrests were made or whether pepper spray was used.