Former US Republican hopeful Ben Carson has announced he is supporting front-runner Donald Trump in the presidential election.
During a joint appearance with the businessman at a press conference in Florida, Mr Carson said: "We buried the hatchet. That was political stuff.
"I have found in talking with him, that there's a lot more alignment, philosophically and spiritually, than I ever thought there was."
The latest endorsement for Mr Trump followed a CNN-hosted Republican debate in Miami, where he came under fire from his rivals for saying Muslims hate the United States.
Mr Trump, who has voiced scepticism about US military involvement abroad in the past, for the first time said the country's effort against so-called Islamic State militants might require between 20,000 and 30,000 US troops.
This is a number similar to what some Republicans have proposed.
The debate at the University of Miami was crucial, coming days before votes in Florida and Ohio that will determine whether Senator Marco Rubio of Florida and Ohio Governor John Kasich will be able to continue with their increasingly long-shot candidacies.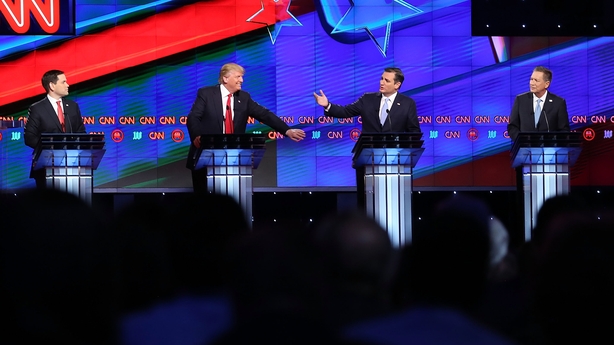 With previous assaults on Mr Trump having failed to knock him down, Mr Rubio and Senator Ted Cruz of Texas chose a more civil approach, raising questions about Mr Trump's policy positions without attacking him personally.
Mr Trump, for his part, used the debate to try to attract establishment Republicans, saying he is generating support from non-Republicans who could help carry the party to victory in the 8 November election.
And he eschewed the inflammatory, personal attacks on his rivals that have drawn both cheers and boos in prior debates.
"The Republican Party has a great chance to embrace millions of people that it's never known before. They are coming by the millions. We should seize that opportunity," he said.
Donald Trump has been criticised after repeating an assertion that he thought Islam hates the United Stateshttps://t.co/F3DbVtSMCA

— RTÉ News (@rtenews) March 11, 2016
But he stuck to positions that many establishment Republicans reject, such as his belief, as stated in television interviews, that followers of Islam "hate us".
"We have a serious problem of hate. There is tremendous hate," said Mr Trump, who has proposed a temporary ban on Muslims entering the United States.
Mr Trump's main rivals have said the United States needs to maintain good relations with Muslim countries in the Middle East to help in the fight against Islamic State militants.
"We are going to have to work with people in the Muslim faith even as Islam faces a serious crisis within it," Mr Rubio said.
Mr Rubio also defended US muslims as patriots.
"If you go anywhere in the world you're going see American men and women serving us in uniform that are Muslims," he said.
"Anyone out there that has the uniform of the United States on and is willing to die for this country is someone that loves America," he added.
US Muslim leaders held a news conference afterwards to criticise the latest comments on Islam from Mr Trump.
Council on American Islamic Relations' director Nihad Awad said Muslims are fighting against extremists in the Arab world who are not celebrated, endorsed or accepted by the Muslim world.
He urged Mr Trump to apologise to Muslims who have fallen while serving for the US as well as those who are still fighting extremists in different parts of the world.
American Muslim leaders have hit back at Donald Trump after his latest comments that Islam hates the UShttps://t.co/H9jcPyGqDm

— RTÉ News (@rtenews) March 11, 2016