Supreme Court Judge Mr Justice Adrian Hardiman has died suddenly at his Dublin home.
Born in Dublin in 1951 and educated at Belvedere College, Mr Justice Hardiman studied at University College Dublin and at King's Inns.
He was called to the Bar in 1974 and practised as a barrister for the next 26 years, taking Silk in 1989.
During a varied and distinguished career he wrote many books, was a founding member of the Progressive Democrats and a member of the Royal Irish Academy.
Justice Hardiman was appointed to the Supreme Court 16 years ago.
Commenting on the death, Taoiseach Enda Kenny said: "Adrian had a long and illustrious legal career and was one of the great minds of our time.
"As well as his enormous contribution to our judicial system, he had a love of our language, a huge interest in history and politics and was also a published writer and broadcaster."
Mr Justice Hardiman is survived by his wife, the retired Circuit Court judge Yvonne Murphy, and three sons.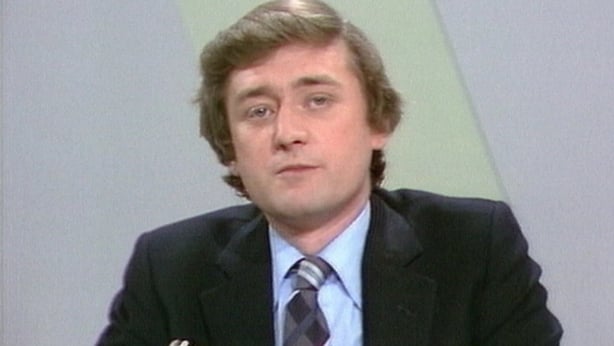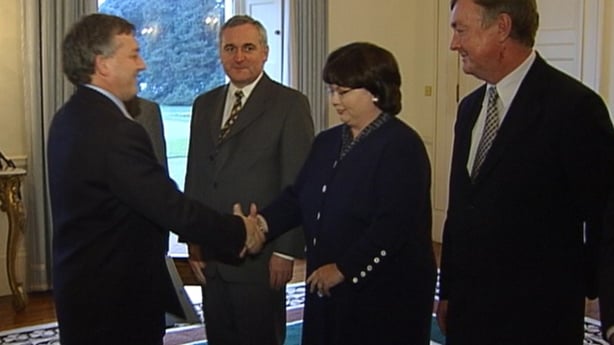 The Supreme Court sat briefly this afternoon to commemorate Mr Justice Hardiman.
All nine remaining Supreme Court judges were on the bench along with President of the Court of Appeal Mr Justice Sean Ryan and High Court President Mr Justice Peter Kelly.
The seat Mr Justice Hardiman would normally occupy was left vacant.
The Chief Justice, Ms Justice Susan Denham, said the State had lost a colossus of the legal world and his colleagues on the court had lost a good and true friend.
She said Mr Justice Hardiman had had a successful career as a barrister.
He was a leader at the Bar and was renowned for his extensive practice and great skill, including in cross examination.
She said he was appointed directly to the Supreme Court in 2000 after 26 years of practice.
Since that time she said he had added greatly to the legal jurisprudence of Ireland in many important judgments.
She said he had written expressing the view of a majority of the Court and had written trenchant dissents.
Ms Justice Denham described him as a Renaissance man.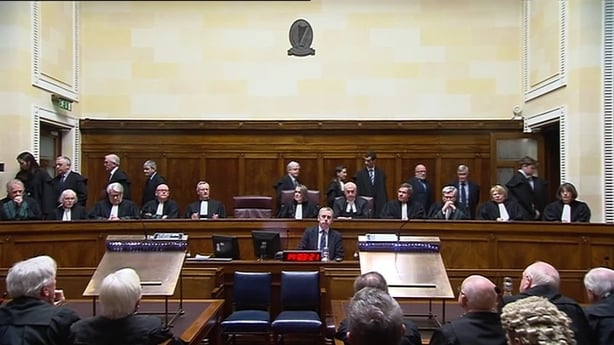 She said he was a historian who spoke and wrote on many topics including the trial of Robert Emmet and the 1916 Rising.
He was due to give a lecture on Easter Monday in the Four Courts on the 1916 Proclamation. She said he was also a remarkable and engaging Joycean scholar.
She said however it was a colleague and a friend that the members of the court would miss him, and they would sorely miss his eloquence in conference, his depth of knowledge, his humour, but most of all his friendship.
Ms Justice Denham said they were sending his deep regret to his wife and sons.
She said there would be other opportunities to reflect on Judge Hardiman's profound contribution to Irish public life but she said at this difficult time, the court would limit itself to this statement.
President Micheal D Higgins earlier paid tribute, saying: "Always committed to the ideals of public service, Adrian earned the honour of being directly appointed to the Supreme Court from the Bar at an exceptionally young age.
"On the Supreme Court, Judge Hardiman has made an immense contribution to the development of Irish law. The depth and rigour of his legal analysis has been matched by the eloquence and clarity of his judgments.
"A strong voice on the court, he has been rightly recognised as a particularly passionate defender of civil liberties and of individual freedoms."
In a statement, Chief Justice Susan Denham described Justice Hardiman as "a man who had made great and courageous efforts on behalf of those who sought justice".
"He neither favoured nor feared any interest - and went about his work with great integrity, grit and dedication."
The Council of The Bar of Ireland has also paid tribute.
Council Chair David Barniville, SC, said: "It was with great sadness and shock this morning that we learned of the sudden death of Mr Justice Adrian Hardiman.
"Mr Justice Hardiman was a colossus at the Bar and on the Supreme Court and was highly regarded and deeply respected by all who knew him. He was arguably the leading advocate of his generation at the Bar and one of Ireland's finest jurists.
"While at the Bar he practised across a vast range of specialist areas including crime, defamation, Constitutional and commercial law. While on the Supreme Court he sat on nearly every significant constitutional case heard by that Court, leaving an indelible mark on Irish history."
In a statement, the Law Society of Ireland said with the passing of Justice Hardiman "the Irish people have lost a fierce protector of their rights against any overreaching by the power of the State".
"As one of the most brilliant barristers of his generation, he was a powerful, punchy and highly persuasive advocate. Fearless, fluent and articulate, he could think on his feet to handle with ease whatever was thrown at him," the statement added.
Progressive Democrats founder Des O'Malley has said he was devastated to hear of the sudden death of Justice Hardiman.
Speaking on RTÉ's News At One, Mr O'Malley said that Justice Hardiman was a man with a wide variety of interests. He said that as a member of the RIA, modern Irish history his field, but he was also a great Joycean scholar who appreciated literature very acutely. Mr O'Malley said this made him a very complete man.
He said Justice Hardiman was a man who was repulsed by injustice and that his great quality was advocacy.
He added that he did not have pre-conceived notions and came to conclusions that, he felt, were the most just.
Minister for Justice Frances Fitzgerald extended her "deepest sympathy" to Mr Justice Hardiman's wife and their sons on the "sudden and tragic" death.
She described Mr Justice Hardiman as "a fearless defender of the constitution and a man of extraordinary intellectual ability", saying "he will be very, very much missed by so many people in the justice family".
Tánaiste Joan Burton said: "Adrian Hardiman was a significant figure in Irish public life, and one of the country's leading legal brains.
"He had a close association with Irish politics and was a liberal voice on many social issues.
"I know that his sudden passing will come as a great shock to the wider legal community, and our thoughts are with his wife and two sons at this time."