Fine Gael has said it will work progressively to form a new government, "but not at any cost".
Vice-Chairperson Fine Gael Parliamentary Party Catherine Byrne said: "We agreed to work in a progressive manner towards the formation of a new government, but not at any cost. It is critical that any government formed is a lasting one. 
"Stability is key at this point in the country's recovery. Members clearly expressed the view that forming an unstable government is not in the people's interest. 
"Fine Gael will adhere to its core principles in the course of any conversation with other parties or groupings. 
FG don't want to be in "a hostage situation" with FF, so coalition or nothing, I understand.FG to pursue 23 Inds, all in plus Labour gets 80

— Mícheál Lehane (@MichealLehane) March 3, 2016
"The meeting strongly reiterated its commitment to supporting the Irish Water model as the best and most cost effective way of providing clean water and decent waste water services. 
"The Irish people have shown enormous resilience in the last number of years and deserve stability.
"A process will be put in place to review our electoral performance and all voices will be heard in that process," Ms Byrne added. 
Meanwhile, a Fine Gael TD has said the party's campaign message did not resonate in rural Ireland as TDs gathered for the first parliamentary party meeting since the General Election.
A Fine Gael TD has said the party's campaign message did not resonate in rural Ireland as TDs gathered for the first parliamentary party meeting since the General Election.
There are 16 fewer Fine Gael TDs in the new Dáil after a campaign that has been the subject of criticism.
Galway West backbencher Seán Kyne told his colleagues that the campaign message had not resonated in rural Ireland while Michael Noonan repeated his view that there would be another election in the short term.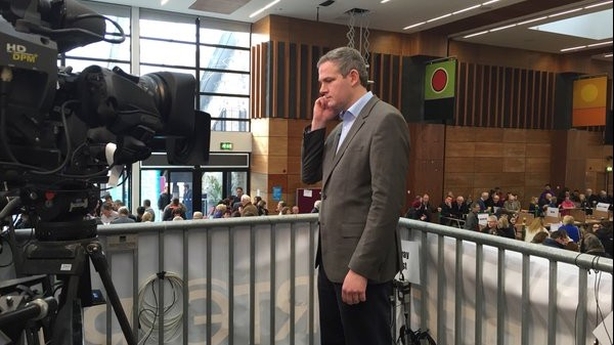 Enda Kenny told his colleagues that they had to assess the prospects for next Thursday's vote for Taoiseach and insisted he would not enter into any arrangement with any other party that did not guarantee stable government.
Elsewhere, Fianna Fáil has decided to select a candidate for Ceann Comhairle next week.
The parliamentary party meeting today focused on Micheál Martin's nomination as Taoiseach.
There were also discussions on the return of new TDs to the 32nd Dáil on 10 March.
There were no substantive discussion on the formation of a government and the party was told that no redline issues had been decided as they were not in negotiations.
It is understood that Mr Martin at one point said discussions about government formation could take two months.
In 2011, Fianna Fáil had a disastrous election and returned with 20 seats but now it has more than double that number.
In that election, Fine Gael became the largest party with 76 seats and it has retained that status, despite losing 26 seats.
On the issue of water charges and Irish Water, Fianna Fáil is in favour of suspending the charges for five years and abolishing Irish Water.
Speaking on RTÉ's Six One, Sean Fleming said the abolition of Irish water is not a red-line issue for the party and Fianna Fáil will talk to all political groups in connection with the formation of a new government.
Mr Kenny has said a national water utility is a fundamental issue for Fine Gael, along with a fair and affordable regime.
Both parties believe householders should pay their water bills but public comments on the issue over the last two days point to wider challenges ahead.
Meanwhile, more candidates are emerging for the Ceann Comhairle position with Sinn Féin President Gerry Adams nominating Cavan-Monaghan TD Caoimhghin Ó Cáolain.
Mr Ó Cáolain said he was honoured by the nomination and pledged, if elected, to uphold the highest standards of fairness and impartiality.