Republican Donald Trump and Democrat Hillary Clinton have taken big steps toward securing their parties' presidential nominations with a series of state-by-state victories, but their rivals vowed to keep on fighting.
On Super Tuesday, the 2016 campaign's biggest day of nominating contests, Mr Trump and Ms Clinton proved themselves the undisputed front-runners.
Now they are under pressure to show they can unify voters in their respective parties and avoid a potentially disastrous split in their ranks that could hurt them in the 8 November election.
Mr Trump won seven states with victories stretching into the deep South and as far north as Massachusetts, adding to a sense of momentum he had built last month by winning three of the first four contests.
Ms Clinton's victories in seven states were just as impressive but in many ways predictable, propelled by African-American voters in southern states like Arkansas, where she and her husband former President Bill Clinton began their political careers.
Donald Trump says he's primed for Presidential battle with Hillary Clinton after key 'Super Tuesday' winshttps://t.co/0q0WGbMXEQ

— RTÉ News (@rtenews) March 2, 2016
Mr Trump's rivals Ted Cruz, a senator from Texas, and Marco Rubio, a senator from Florida, emphasised their determination to remain in the race.
Mr Cruz won his home state of Texas and neighbouring Oklahoma, and also Alaska, bolstering his argument he had the best chance to stop Mr Trump.
Mr Rubio, favourite of the Republican establishment, was the winner in Minnesota, his first victory.
'What a Super Tuesday!' @CaitrionaPerry reports on key wins for Clinton & Trump in the race for the White Househttps://t.co/vRb0HaQiyY

— RTÉ News (@rtenews) March 2, 2016
Ms Clinton's rival Bernie Sanders, a democratic socialist senator from Vermont, also won his home state along with Colorado, Minnesota and Oklahoma and vowed to pursue the battle for the nomination in the 35 states yet to vote.
He lost to Ms Clinton in Massachusetts, a fifth state he had hoped to win.
Clinton:We don't need To Make America Great Again. America never stopped being great. We need to make it whole again..more love and kindness

— Caitriona Perry (@CaitrionaPerry) March 2, 2016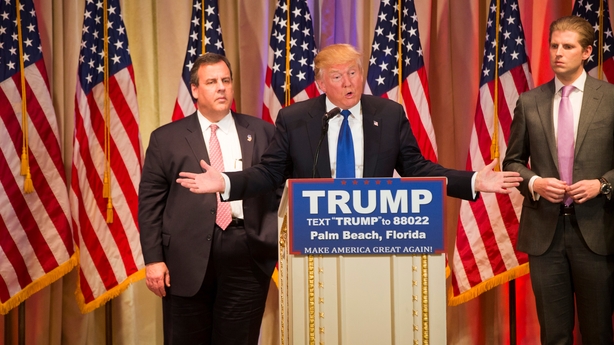 Trump on banning Muslims:"We're going to build a safe zone & it's going to be in Syria and we're going to get the Gulf States to pay for it"

— Caitriona Perry (@CaitrionaPerry) March 2, 2016
Carson says no political path forward in presidential bid
US Republican presidential candidate Ben Carson said he does not see a "political path forward" in his 2016 bid for the White House.
Mr Carson, a retired neurosurgeon who has not yet won a state contest of the more than a dozen held so far, said he will not attend tomorrow's Republican debate in Detroit.
He has not formally suspended his campaign.