A woman who clipped off a car just seconds before it was involved in a head-on collision killing eight men has denied she was on the wrong side of the road.
Ann McGilloway was giving her evidence at the inquest into Ireland's worst-ever road crash at Inishowen Coroner's Court in Co Donegal today.
The 62-year-old from Clonmany was returning home from bingo when she came into contact with a car being driven by Shaun Kelly, 27.
Seven of Mr Kelly's friends and pensioner Hugh Friel, 66, died after the crash on the evening of 11 July 2010, an incident which resulted in Kelly being jailed after pleading guilty to dangerous driving causing death.
Ms McGilloway admitted that she did not have a valid NCT, had a worn front left tyre and a broken left front headlight.
However, her solicitor Mr Frank Dorrian said his client had not been prosecuted and was not on trial.
He said Kelly had pleaded guilty in the circuit court to dangerous driving causing the deaths of eight men and his client should not be held responsible in any way.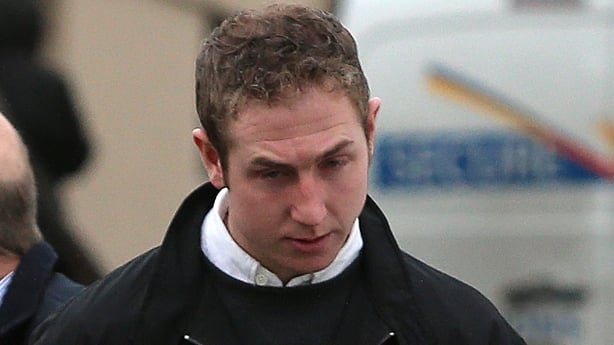 He said: "My client cannot and will not be exposed to some kind of attack that someone is going to spring a trap on a citizen and suggest on some level that she could be implicated in the death of eight people."
He added that if Kelly had any evidence, he could take it to the court of appeal and blame whoever he wishes.
Ms McGilloway was asked questions from the floor from a number of members of the bereaved families.
On several occasions, Mr Dorrian advised Ms McGilloway not to answer various questions from the floor and reminded the court that she was not facing prosecution.
Not qualified to answer question
Eamon Sweeney, father of the late Ciaran Sweeney, said he did not want to apportion blame to her but asked Ms McGilloway if she considered her Renault Megane car to be roadworthy.
However, coroner Dr John Madden said Ms McGilloway was not a mechanic and not qualified to answer the question.
Reading her statement, Ms McGilloway told how, on the night of July 11, 2010 she overtook Mr Friel's car after the North Pole Bar between Buncrana and Clonmany after leaving St Mary's Hall in Buncrana having played bingo.
She said the reason she overtook Mr Friel was because he drove very slowly but added that she was only driving at between 40 and 50m/ph.
She described how she saw a black car coming at speed towards her and it veered over the white line onto her side of the road while the driver tried to pull the steering wheel back towards his side of the road.
"I then said to myself 'thank God, he is going to miss me'," she said.
She then heard a loud bang and the airbags in her car went off and her car "seemed to slide for ages" before coming to a stop.
She eventually managed to get out of her car and a passing couple contacted the emergency services.
'Right side of the road'
Under questioning from the families, Ms McGilloway added: "I was not on the wrong side of the road, I was on the right side of the road."
The coroner reminded Ms McGilloway that she did not have to answer any questions that would incriminate her in any way.
However, Anthony Friel, brother of the late Hugh said: "I want answers and I will get them here today. I lost my brother. Before I leave I will get answers or I will stop the whole lot."
The eight people killed in the crash were: Hugh Friel, Urris, Clonmany; Eamonn McDaid, 22, of Ballymagan, Buncrana; Mark McLaughlin, 21, of Ballinahone, Fahan; Paul Doherty, 19, of Ardagh, Ballyliffin; Ciaran Sweeney, 19, of Ballyliffin; PJ McLaughlin, 21, of Rockstown, Burnfoot; James McEleney, 23, of Meenaduff, Clonmany; and Damien McLaughlin, 21, of Umricam, Buncrana.
Through day two of the inquest, Kelly's solicitor Ciaran MacLochlainn and barrister Stephen Byrne, representing the Garda Commissioner, engaged in legal argument.
Mr Byrne accused Mr MacLochlainn of continually "grandstanding" while Mr MacLochlainn accused the gardaí of not allowing questions to be answered.
Gardaí not engaged in 'cover-up'
Mr Byrne said at one point that gardaí were not engaged in any kind of "cover-up" as had been suggested by Mr MacLochlainn.
Garda Sgt Carol Doherty gave evidence of being summoned to the scene of the crash and finding the bodies of the dead men including one which was found in a nearby river.
Evidence from various emergency response personnel including: Garda Brendan Roche of Buncrana Garda station; James McKenna, chief fire officer at Buncrana Fire Station; and Duncan McDaniels, station officer at Carndonagh Fire Station was also heard.
The inquest resumes again tomorrow.