London Mayor Boris Johnson has confirmed he will campaign for Britain to leave the European Union, dealing a heavy blow to British Prime Minister David Cameron ahead of June's referendum.
The decision comes a day after Mr Cameron called the 23 June poll and declared his own intention to campaign for Britain to stay in the EU after clinching concessions from other member states that he said would give Britain a special status in the world's biggest trading bloc.
Mr Johnson has the potential to galvanise the 'out' campaign because of his ability to swing public opinion.
Mr Cameron had urged Mr Johnson not to join opponents of EU membership, loosely organised around divisive political figures such as UK Independence Party chief Nigel Farage and left-wing campaigner George Galloway.
"I would say to Boris what I say to everybody else, which is that we will be safer, we will be stronger, we will be better off inside the EU," Mr Cameron said.
It was not only Mr Cameron who had been waiting to hear Mr Johnson's decision.
Leaders on both sides of the Brexit debate, Britain's Sunday newspapers and even financial markets had been eagerly waiting for Mr Johnson to declare his allegiance. Mr Johnson joins six members of Mr Cameron's cabinet who yesterday rebelled and said they wanted to leave.
British voters - and Mr Cameron's ruling Conservative Party - are split on membership. Polls suggest about a fifth of voters are undecided, though betting odds have moved further in favour of Britain remaining and a poll published today showed the 'in' campaign with a lead of 15 percentage points.
In what has been cast as Britain's biggest strategic decision in at least a generation, voters will be asked on 23 June: "Should the United Kingdom remain a member of the European Union or leave the European Union?"
A British exit would rock the EU - already shaken by differences over migration and the future of the eurozone - by ripping away its second-largest economy.
Brexit could trigger second Scottish independence vote
Meanwhile, a vote for the UK to leave the EU against Scotland's will would "almost certainly" trigger another independence referendum, SNP leader Nicola Sturgeon has warned.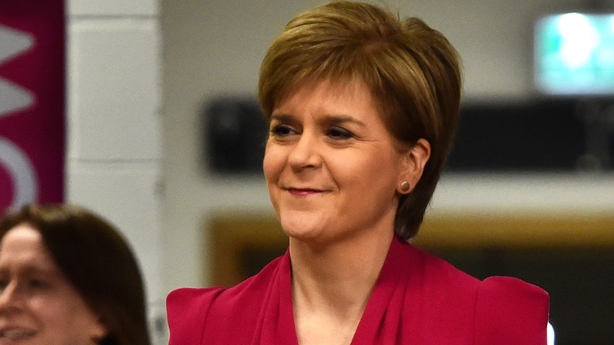 Ms Sturgeon said there would be an "inescapable" shift in public opinion towards independence to guarantee Scotland's continued EU membership.
And it is "inevitable" that people who voted 'No' in 2014 would change their minds, she added.
She also warned leaving the EU would see the Conservative government "unfettered" to water down UK employment rights and social protections.