British Prime Minister David Cameron urged EU leaders at a crucial Brussels summit to take a "live and let live" approach to securing a reform deal to keep Britain in the EU.
Mr Cameron said the issue of Britain's place in Europe "has been allowed to fester for too long" and that there was now a chance "to settle this issue for a generation".
"It's an opportunity to move to a fundamentally different approach to our relationship with the EU - what some might call a sort of live and let live, reflecting that those states who wish to integrate further can do so while those of us that don't can be reassured that their interests will be protected," he added in his first comments to leaders at the summit.
Mr Cameron also urged EU leaders to secure "a package that is credible with the British people" ahead of a referendum on whether Britain should leave the EU which is expected to take place in June.
Negotiations are set to last through the night to secure reforms in areas including how much in benefits EU migrants working in Britain can claim and whether it can opt out of a commitment to ever-closer union, a key EU principle.
Opinion polls currently give a narrow lead to the campaign for Britain to remain in the EU but experts warn that a large number of voters have yet to decide how to cast their ballot.
Irish arrangements with UK 'separate' to possible EU reforms
The Irish Ambassador to Britain has confirmed that the Government has held talks with London to ensure that Irish nationals living in Britain are not affected by any restrictions to benefits which may emerge as part of a deal to keep the UK in the EU at this week's summit in Brussels.
Speaking on Bloomberg television, Ambassador Dan Mulhall said Ireland's arrangements with the UK regarding Irish nationals working there were "separate" from Mr Cameron's efforts to restrict migration and limit benefits for those coming from Central and Eastern Europe.
Ambassador Mulhall told Bloomberg: "We will continue to discuss this issue because it's recognised on both sides this is a particular issue which is a little bit separate from migration from other European countries which is a more recent phenomenon for Britain."
He added: "The issue of Irish people living in the UK predates the EU by many years. We have of course discussed this issue with the British government, and depending on what the outcome of this whole process might be, obviously it is a matter that will have to be continued.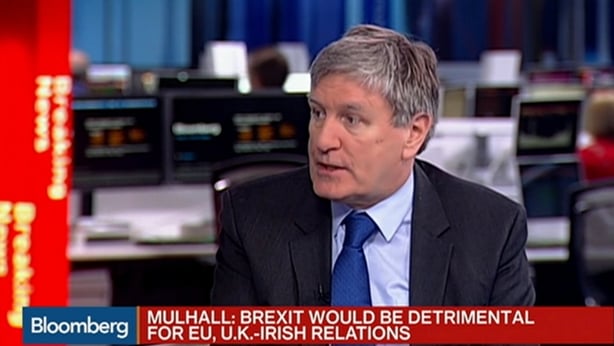 "We'll have to continue to discuss it with Britain and with other member states in order to ensure as far as possible that Irish people continue to enjoy the same advantages as they currently enjoy."
Mr Mulhall said the outcome of the negotiations in Brussels was not yet known and that there was still uncertainly about the so-called "emergency brake" which would allow the UK to restrict in-work benefits that would be available to other EU nationals coming to work in the UK.
"There's still some work to be done on the emergency brake, on how exactly it would operate, on its duration, whether it would be available to all member states or not," he added.
French President Francois Hollande said an EU deal with Britain was "possible" but ruled out any terms that would hold the bloc back, amid concerns over demands for safeguards for non-euro countries.
"A deal is possible if certain conditions are met. A deal is possible because it is necessary that Britain should remain in the EU," Mr Hollande said as he arrived for the summit.
"But no country can have the right to a veto, no country can withdraw from the common rules... otherwise another country will demand exceptions."
He added: "We cannot hold Europe back from advancing."
Cameron says will reject UK deal that does not meet 'what we need'
Mr Cameron needs the other 27 member states to agree to a series of key reforms which will allow him to campaign for Britain to remain in the EU in an in-out referendum as early as June.
As he arrived at the summit, Mr Cameron said he will reject any deal to keep Britain in the EU that does not meet "what we need."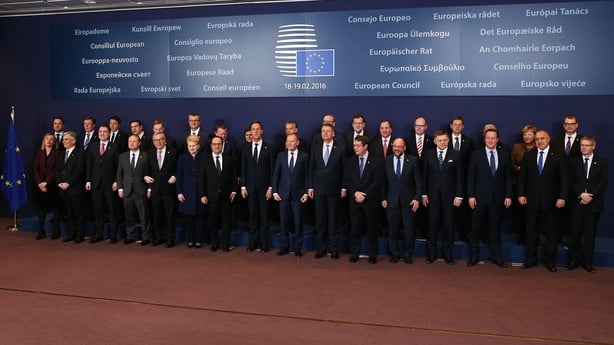 "I'll be battling for Britain. If we can get a good deal I'll take that deal but I will not take a deal that doesn't meet what we need," Mr Cameron told reporters.
The most contentious element of Mr Cameron's hard fought list of demands is that EU nationals are prevented from receiving in-work benefits the moment they start working in Britain.
He also wants any child benefits which those migrant workers send home to be indexed to the cost of living in their own country.
Mr Cameron believes such changes would limit the level and costs of EU migration to Britain.
Central and Eastern European countries - whose citizens would be most affected - have been resentful of such plans.
In terms of a possible exemption for Irish citizens working in Britain, there has been detailed talks between the Irish and UK governments based on the legacy of a joint labour market, the single travel area, and the unique historical relationship between the two countries.
A number of sources in London, Dublin and Brussels have said that Britain is sympathetic to the idea and that an exemption could be worked out even ahead of a British in-out referendum in June.
However, Eastern European countries would resent any concessions to another member state.
At the same time, it may be no coincidence that Irish people living in the UK will have a vote in the referendum.