Archbishop Narcissus Marsh, founder of Marsh's Library among his other claims to fame, had a Greek motto which he wrote in the front of all his books, as I discovered today at a fascinating new exhibition in Marsh's Library.
His motto translates as "Truth is Everywhere", which seems most appropriate when we consider the three polls to be published tomorrow. Archbishop Marsh, I suspect, saw all truths as pointing to the same conclusion but the polls, not unusually, do not all tell quite the same story.
All polling was done during the last week, with B&A finishing on Tuesday and RED C and Millward Brown concluding Thursday, but the average interview by Millward Brown was a little later than that for the RED C poll. Fine Gael will be pleased that these polls suggest something better than the 26% in the previous RED C poll.
Labour, and perhaps Sinn Féin, will take comfort in the fact that the low numbers in at least one of these polls are an outlier for them. Fianna Fáil will be pleased that two of the three give some support to the positive reports coming from those covering the party on the campaign trail.
Putting them all together with the preceding polls indicates rather less change than any single poll might suggest and broadly confirms what the previous polls told us. The government parties remain well short of where they hoped to be at this time, and neither has any upward momentum. They are not alone in this respect. These Poll of Poll figures are very close to the average poll figures for each party in 2016. Fianna Fáil is staying ahead of Sinn Féin - which has declined noticeably over the last year - and the many small parties all seem to be establishing a significant presence.
Seat predictions based on these polling figures give the government just 68 seats, with Fine Gael on 55. Fianna Fáil gets 33 to Sinn Féin's 29. Half of the seats going to 'Others' look as if they will be won by the several smaller parties who get 14 seats between them as against five for Independent Alliance and nine for the rest.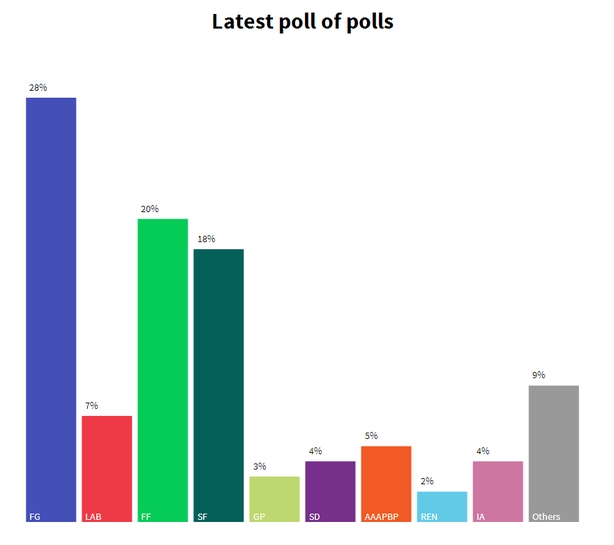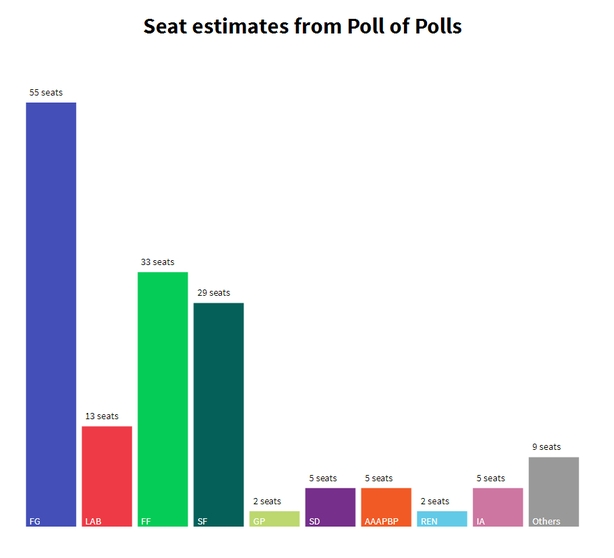 ---
Previous Poll of Poll Updates
19 January: No appreciable change
30 January: FG, Labour continue to rise
4 February: Has the rise in Fine Gael's fortunes been halted?
8 February: Poll of Polls suggests FG and Labour to fall just short
10 February: Slight gains for Fianna Fáil & Sinn Féin in latest Poll of Polls
13 February: Poll of Polls update: FF, SF neck and neck
16 February: Poll of Polls: Downward trend for Fine Gael
---
By Michael Marsh, Emeritus Professor, Trinity College Dublin