The Hutch family pleaded for no retaliation over the murder of Eddie Hutch senior and called on the cycle of violence "to stop now" amid a heavy Garda presence at his funeral.
Mr Hutch senior, a Dublin-based taxi driver, was shot dead at his home on 8 February in apparent retaliation for the murder four days earlier of David Byrne at the Regency Hotel as part of an ongoing feud between two criminal gangs.
The celebrant at the funeral mass today said the circumstances surrounding his death have spiralled out of control and shocked the nation.
Fr Richard Ebejer said nobody deserves to die in the way the 59-year-old did and said all vengeful violence is to be condemned in the strongest terms possible wherever it comes from.
Hundreds of people joined Hutch family members, relatives, friends and those from the north inner city community to pay their respects at the funeral.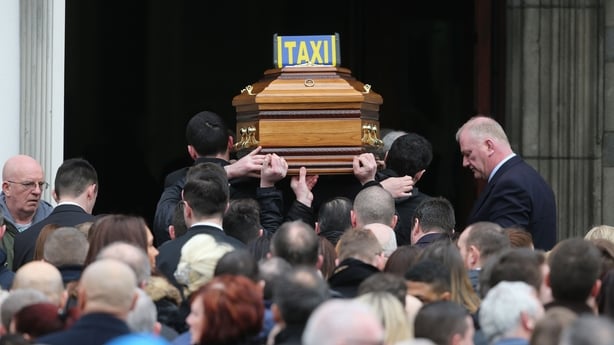 They have, as Fr Ebejer reminded them, shown a lot of goodness in the face of the present evil.
He also spoke of the positive values among the inner-city community.
"Inner city Dublin has a great history of people looking after one another, especially when times are hard.
"That goodness springs up natural. It would be a tragedy if we were to lose that sense of good Dublin values."
The Hutch family has asked there be no retaliation for the murder, Fr Ebejer said.
"They now call on everybody for this cycle of violence to stop, and to stop now," he said.
They made the same plea following the murder of Eddie's nephew Gary Hutch six months ago, which marked the beginning of the feud.
A Garda security operation involving armed and uniformed officers was in place to ensure there was no violence as Mr Hutch senior was laid to rest.