Eagles Of Death Metal frontman Jesse Hughes has said the Bataclan massacre could have been stopped if everybody had firearms.
The US rock band was performing at the Bataclan theatre in Paris when terrorists attacked on 13 November.
In total, 130 people were killed in a series of coordinated shootings and bombings across the city, with the highest death toll at the Bataclan.
In an interview with French broadcaster iTele, he said: "I'll ask you: did your French gun control stop a single f*****g person from dying at the Bataclan?
"And if anyone can answer 'yes', I'd like to hear it. Because I don't think so.
"I think the only thing that stopped it was some of the bravest men that I've ever seen in my life charging head first into the face of death with firearms."
His comments came as Eagles Of Death Metal returned to Paris to play a tribute concert to the 89 fans who were shot dead at their November concert.
Tonight's gig is being held at the Olympia venue in Paris, a few kilometres from the Bataclan, which remains closed.
Deafening cheers and applause rang out as the group began their set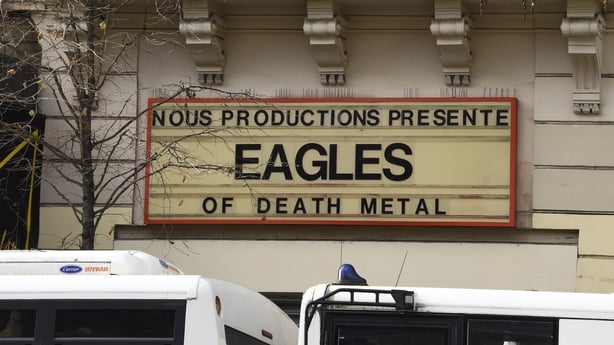 Earlier, Mr Hughes said: "I think the only way my mind has been changed is maybe that until nobody has guns, everybody has to have them.
"Because I don't want to see anything like this ever happen again.
"And I want everyone to have the best chance to live and I saw people die that maybe could have lived, I don't know, but I wish I knew for sure if they could have had a better chance."
Mr Hughes is reportedly a member of the US's National Rifle Association and a supporter of Republication presidential candidate Donald Trump.
Mr Hughes and his band mates Dave Catching, Julian Dorio, Eden Galindo and Matt McJunkins survived the shootings but the band's merchandise seller Briton Nick Alexander was killed in the attack.
Mr Hughes fought back tears as he said: "I haven't had any nightmares, and I've slept fine, but when I'm awake is when I see things that are nightmares, you know?
"And I thought that talking about it would make it easier...but it's not.
"There's really no frame of reference for this at all.
"I just wish it would go away."