France honoured the victims of Islamist militant attacks last year in a ceremony in Paris today.
French President Francois Hollande and Paris Mayor Anne Hidalgo laid a wreath by the statue of Marianne, symbol of the French republic, in central Paris.
The statue has become a shrine to the 17 victims of the January 2015 attacks on Charlie Hebdo and a Jewish deli, and to the 130 people killed by militants on 13 November at a concert, and in bars and restaurants in Paris.
"To the victims of the terrorist attacks in January and November ... In this place, the people of France pay their respect," read a metal plaque unveiled by Mr Hollande and Ms Hidalgo under a newly planted memorial oak tree on Place de la Republique in eastern Paris.
Neither Mr Hollande or Ms Hidalgo spoke at the ceremony, but veteran French rock star Johnny Hallyday sang a song about the march on 11 January last year, which brought out the biggest crowds in Paris since the liberation of Paris from Nazi Germany in 1944.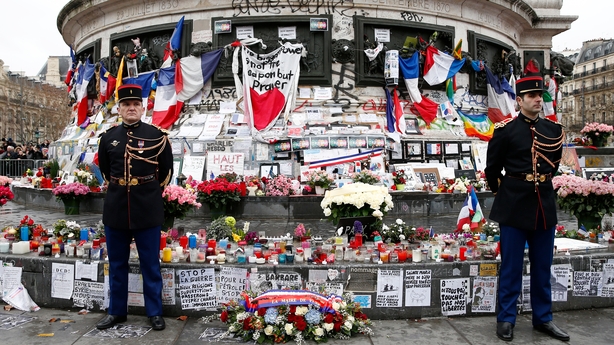 Ms Hidalgo said the Marianne statue - covered with flowers, candles and pictures of the victims – will be permanently lit from now on.
"Paris is scarred, but we are still standing," she said after the ceremony.
Mr Hollande, who stood stony-faced through the ceremony, later met with the families of the victims on the square.
Interior Minister Bernard Cazeneuve said security forces remain on high alert as there is a real threat of more attacks.
"We are facing an extremely high level of threat, higher than it has ever been," Mr Cazeneuve said.